Easy Serial Seven Segment LED Display with Clock segment
Product name: SPI7SEGDISP4.40-1R
Description:
This 4-digit seven segment LED display is based on MAX7219 and supports SPI interface. It requires only three I/O pins of Arduino or any other microcontroller, and gives you full control of all 4 digits and decimal points.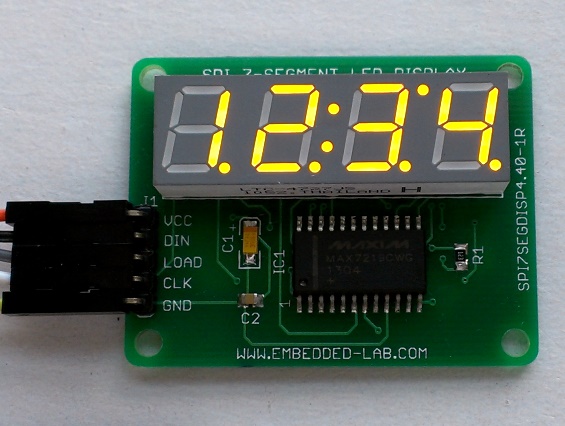 Features:
based on MAX7219 display driver
SPI interface (3 pins)
operates at +5V supply
individual control of all digits and decimal points
display brightness control through software
dimensions 1.95″ x 1.4″ (50mm x 36mm)
high quality LTC-4727JS display (0.40") module that emits bright yellow light
colon segments for displaying time (MM:SS or HH:MM)
fully assembled and tested board
Important note about shipment
First Class USPS International Package is the standard shipping service that we use for both domestic and international orders, because it is the cheapest shipping option available in the United States. Tracking is not available once the package leaves the USA.
Click here for PIC12F683 and MAX7219 interfacing example
The PIC12F683 example code is written in C and it can be easily implemented to any other microcontroller family.