Easy serial interface for driving large seven segment LED displays
Overview
Seven segment LED displays are visually very charming and are readable from a far viewing distance and wider view angle compared to other types of electronic displays. Small size seven segment LED display modules usually require a forward driving voltage less than +5V and as such they can be driven directly through a microcontroller's I/O pins. However, in order to interface bigger size seven segment modules, which require more current and a higher forward voltage, an additional voltage translation circuit is required to enhance the microcontroller outputs. The HV Seven Segment LED Display Driver allows you to interface 8 large seven segment LED display modules (common-cathode type) to a +5V microcontroller through an SPI interface. It can drive LED segments with forward voltage up to 24V.
Note: This listing is for PCB only.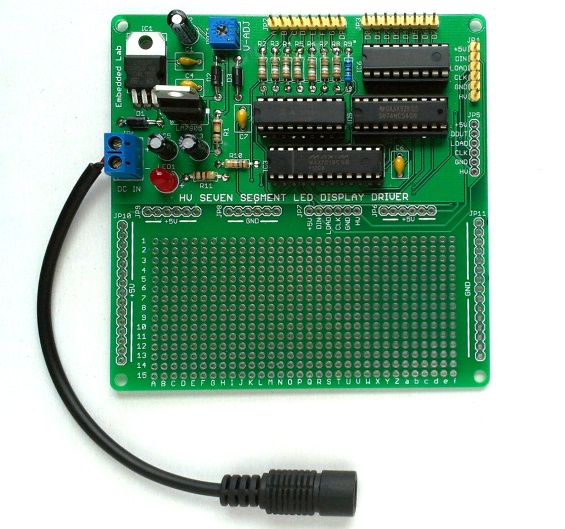 Features
On-board +5V and an adjustable HV power supply for the LED modules
Can drive seven segment LED modules with forward voltage up to 24V
Multiple boards can be cascaded
On-board prototyping space for experimenting
Maximum current per digit is 500 mA
3-pin SPI interface (+5V) for data input
Outputs are functionally compatible with that of MAX7219
Note: This listing is for PCB only. You will need following items to complete the board.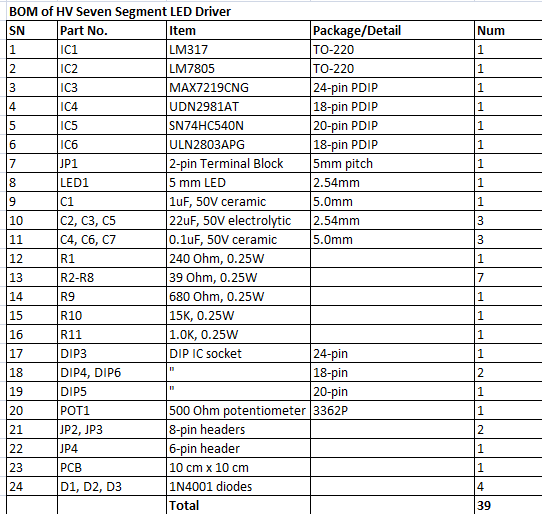 Use Cases
Large seven segment displays used in public places, banks, gas stations, bus stops, bars, etc.