We are the only marketplace community focused on helping you hack the world around you.
On Tindie you'll find products that break boundries and empower you to do more.
We are 4 people changing the world, one line of code at a time.
Hack your world.
Recent Press
---
Our Principles
---
Building a store is easy. Building a community is hard. We are building a community to support innovation.
Trust
First and foremost we are a community dedicated to helping innovative, small businesses.
Safety
Secure transactions and the best customer service possible ensure a safe environment.
Quality
Products and sellers are reviewed to ensure the highest quality possible.
Team
---
Emile Petrone
is the Founder of Tindie. On April 7th, 2012 he left a post on
reddit.com/r/Arduino
: 'Would you support an Arduino marketplace or am I totally off base?' He officially launched Tindie in June 2012. Before Tindie he was an engineer at SimpleGeo (acquired by Urban Airship), worked in sales at Yelp and Red Beacon (acquired by Home Depot).

Julia Grace
is Head of Engineering at Tindie where she built the engineering team and still writes Python (and the occasional JavaScript) every day. In her prior lives she was CTO of a 500 Startups company, Product Manager at a mid-stage startup, and Research Engineer in one of the world's top User Experience Research groups, at IBM Almaden Research. She holds a BS and MS in Computer Science with a focus on distributed systems. She spends her "free time" half-marathon running, hacking on her collection/army of Arduinos and sits on the board of the Computer History Museum.

Chris Lambacher
is an engineer extraordinaire at Tindie. When he's not doing full stack development he's teaching his young daughter about scope in JavaScript. He lives in sunny, warm Toronto, Canada where he grows his own vegetables, makes his own wine and answers questions on StackOverflow.

Marc Sibson
is an engineer extraordinaire at Tindie. He is often called Mr. DevOps and loves building awesome tools that help the Tindie team work more efficiently. He enjoys running (both for fitness and chasing his young son, to whom he has already started reading distributed systems papers).
---
Interested in joining us?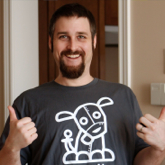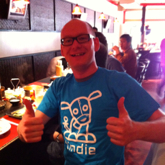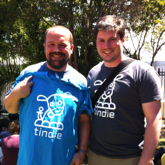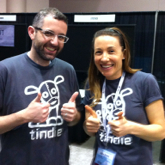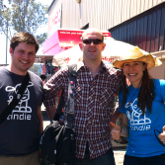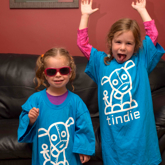 ---
Open Positions
Marketing / Community Lead
Hiya,
For the last year and a half, we have been working on building the platform for discovering indie innovations. We believe that the future will need a place for finding interesting and cutting edge work. Whether it is a couple of 18 year olds launching a $90 weather station or a maker in their garage making next generation synthesizers, our mission is to help bring these ideas to the world.
So far, we have launched over 1,600 products, and we are just getting started.
We are on our way to our first $1M year, and to help get us there, we need to do a better job on making Tindie well known. So far, everyone has been focused on building the best possible platform which means marketing now needs a lot of TLC. We are hiring our first marketing lead that can take this opportunity by the horns and make Tindie a well known community.
What will this involve?
You'll be a one-person team, given tons of freedom and just as much responsibility. We are looking for an expert that will drive our marketing efforts for years to come.
Love exciting, groundbreaking ideas & innovators
Starting from scratch & taking full responsibility for our marketing efforts
Writing content about our amazing community
Injecting stories in the press and driving PR
Creating wild ideas that stand out from the norm
If you've wanted to jump on a rocket ship, and make a real impact on where we are going - here is your opportunity.
Last month we had our first month with over 100k visits. And this is just the beginning.
What makes Tindie different?
We have a remote work culture - a few in Mountain View, a few around Toronto, and another in Vancouver. Because we are interested in working with other great people, we realize that means opening Tindie to hiring anyone and everyone- regardless of location.
You'll report directly to CEO
As much vacation time as you need
Work remotely or out of our office in Palo Alto
Competitive salary
Move quickly, and then even quicker
Unlike every other job you have ever had, you will have immense freedom and very few restrictions. When you need time off, take time off - whether that means running to pick up your kids or taking a day off to visit your family across the country. Because we all respect each other, we've found this to be super effective and it creates a company culture unlike any other.
We are super excited for you to join the team. If you think you are the person we are looking for, please email us at jobs@tindie.com and tell us why.
We can't wait for you to start!
Emile
Founder and CEO, Tindie