Sensor to measure pulse rate from fingertip
What is Easy Pulse?
Easy Pulse is a DIY pulse sensor that is designed for hobbyist and educational applications to illustrate the principle of photoplethysmography (PPG) as a non-invasive technique for detecting the cardio-vascular pulse wave from a fingertip. The current version (V1.1) of Easy Pulse uses a transmission mode PPG probe (HRM-2511E) sensor, which uses an infrared light source to illuminate the finger on one side, and a photodetector on the other side to measure small variations in the transmitted light intensity due to changes in blood volume inside the tissue. The on board instrumentation provides a clean and filtered analog PPG waveform as well as a digital pulse output, which are both synchronous with the heart beat.
The new Easy Pulse looks like this.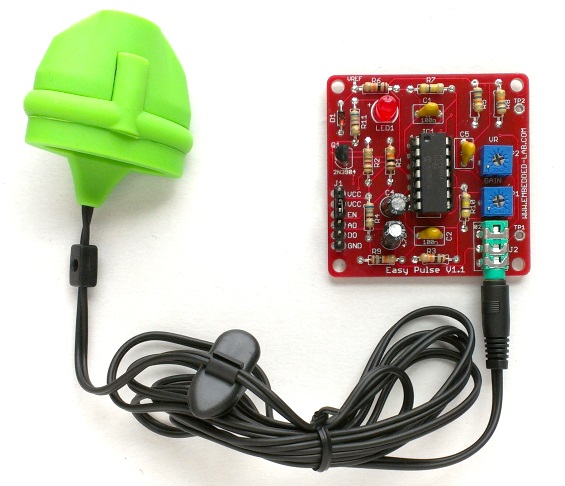 Features of Easy Pulse V1.1
Stable PPG signal output
MCP6004 Opamp based instrumentation with rail-to-rail output capability for maximum output signal swing
Separate analog and digital outputs
Potentiometer gain control for the analog output
Pulse width control for the digital output
Additional test points on board for analyzing signals at different stages of instrumentation
Operates at both +3.3V and +5V
Examples provided for building a pulse rate meter using Easy Pulse and Arduino/chipKIT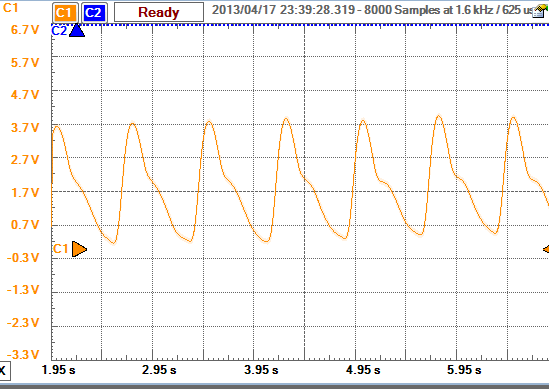 Also find details on making a PC-based pulse rate monitor using Arduino and Easy Pulse at the following link: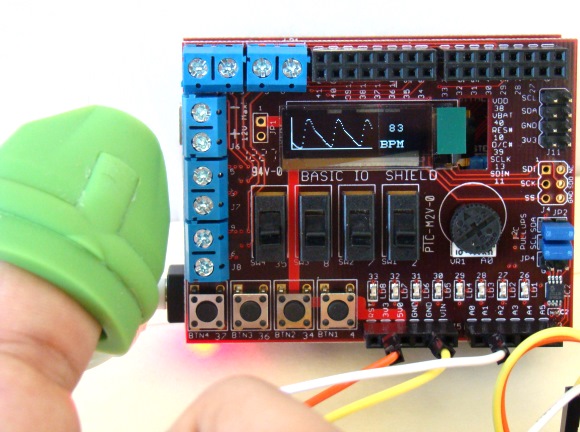 Important note about shipment
First Class USPS International Package is the standard shipping service that we use for both domestic and international orders, because it is the cheapest shipping option available in the United States. Currently we are shipping this product only to USA, and Canada. Shipping to other countries using USPS is more expensive and less reliable (I have lost two packages last month), and there is not tracking available once the package leaves the USA. International buyers may contact me at rajbex(at)gmail(dot)com to inquire about shipment option to their country.