Tiny adaptor PCB to allow ESP8266 WiFi modules to be soldered onto an Espruino Pico
This is just the PCB. WiFi module and Espruino Pico not included!
What is it?
This is a tiny little PCB that lets you solder an ESP8266 ESP01 WiFi module onto your Espruino Pico.
The ESP8266 only needs 4 wires to be connected, but this lets you put everything together into a very small volume. It also has space for a voltage regulator and capacitor if you need them.
Instructions on soldering here
Note: This is the new version of the WiFi shim (pictures will be updated soon). It's designed to be easier to solder onto pinned boards, while also bringing out the RST, CH_PD, GPIO0 and GPIO2 pins which allow the ESP8266 to be put into low power modes.
Other Products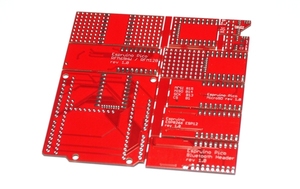 The WiFi shim is also included in the Pico Adaptor Pack (shown above) - it contains adaptors for many more devices as well!
Note: while prices are in USD, Puck.js devices are shipped from England. If you live in the UK or Europe, VAT is included in the price you pay. If not, you may be liable to pay your country's import tax when you receive the package.