A wifi-enabled, IOT starter kit to learn electronics. Tutorials at ulcek.com
What is it?
The Ultra Low Cost Electronics Kit (ULCEK) is a $15 electronics kit that combines the best that hobby electronics has to offer today in a low-cost, project-oriented package targeted at anyone who is interested in getting into electronics. This package is compatible on the Arduino IDE, one of the world's most popular platform for hobby electronics.
Why did you make it?
I always wanted a kit to get started in electronics. However when I bought an Arduino starter kit, it felt directionless and lost interest soon after. My next foray into electronics was actually a project to build an alarm clock, and that went far more successfully.
What makes it special?
There are a million electronics kits on the Internet. However they are based on a simplified interpretation of electronics. You can't really use these kits for anything else other than what they were meant for. The ULCEK uses real-world electronics to teach concepts. So with the parts you get, you can buy more of them at Radioshack or online, and with the skills you learn, you can start using real electronics immediately.
The tutorials are written in a friendly and approachable format. The target audience for this kit is someone with no knowledge of electronics or programming.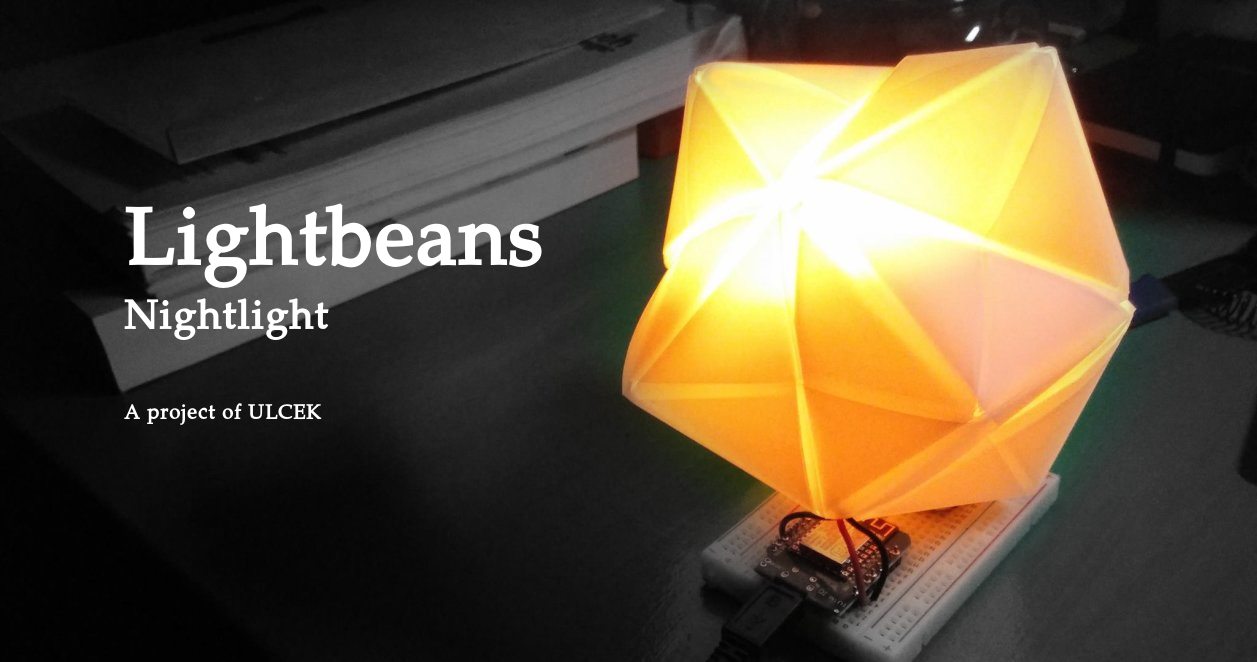 The first series of tutorials Lightbeans has been written. For this project, you will build a light-activated nightlight with the ULCEK kit.
All material except for the housing of the light is in the kit. More instructions can be found in the Lightbeans Tutorial.
What you get
ESP8266 board
Half-size breadboard
15 DuPont Male-Male Wires
5 1k ohm resistors
5 100k ohm resistors
5 3.3k ohm resistors
10 LEDS, various colors
5050, WS2182B RGB LED
Light dependent resistor
Photodiode
Pushbutton
Micro USB cable
Box
What is the ESP8266 board?
It is a wifi-enabled Arduino IDE compatible board. That means that with a few steps, you can start using it with the Arduino IDE, one of the most popular platforms for programming microcontrollers.
FAQ
Shipping is too expensive!
That is absolutely true! So if you find that I am not shipping to your country but would still like your own set, please see the table of items. You can assemble your own kit by following the instructions there.

So I can build my own kit?
Yes. With that kit you can follow along with the instructions that I have provided on the website. While it might be a little more expensive to ship your own items, it starts becoming cost effective if you are planning to assemble multiple kits for classroom usage. All I ask when you use these tutorials is to provide feedback so that I may improve them for others.

I built my own kit, but something isn't working!
Sorry, I am unable to provide support for kits that I don't sell personally. The Internet is a great resource for solutions!

I want to build a kit for the classroom. Can you help me?
Yes. Please contact me at info@ulcek.com.
More questions?
If you have more questions regarding the kit you can send them to info@ulcek.com