DIY KIT - Muffsy Phono Preamp
Complete information and build instructions at http://muffsy.com
Save $20 when you buy the phono stage, power supply and back panel from this page instead of ordering all three products separately
Please note that the kit does not include an enclosure, see this page for options
The Muffsy Phono Preamp PP-3 is a complete DIY hifi phono preamplifier kit that anyone can build.
True Hifi
Optimized for any moving magnet or high output moving coil, the Muffsy Phono Preamp offers spectacular RIAA compliance, ultra-low noise, a wonderful great sound stage and superior detail.
Use it together with the Muffsy MC Head Amp for low output MC (LOMC) cartridges.
Everything You Need to Build a Complete Phono Stage
There are currently four products in the Muffsy line-up:
The Muffsy Phono Preamp
The Muffsy MC Head Amp
The Muffsy Hifi Power Supply
The Muffsy Back Panel
This is everything you need to get a fully functional phono stage, except an enclosure and an AC wall adapter (see here for options). The kits are complete, down to the the very last connector and the cables.
Use a B0905 aluminum enclosure (easily found on eBay), and you won't even have to drill a single hole or do any modifications.
Specifications
THD: 0.00190%
THD+N: 0.01013%
SNR: 79.4 dB (Inputs shorted)
IMD: 0.0195% (ITU-R)
Crosstalk: -102 dB
Dynamic Range: >110 dB (THD+N: 1%)
RIAA Compliance: +/- 0.15 dB
RIAA Equalization: Passive
Gain: 36-46 dB in four steps
Input Impedance: 17k-150k ohm in fifteen steps
Input Capacitance: Optional
Size: 84 x 56 mm
Great Documentation
Complete step-by-step build instructions are available on the Muffsy home page, as well as a section on how to customize the phono stage to suit your exact needs.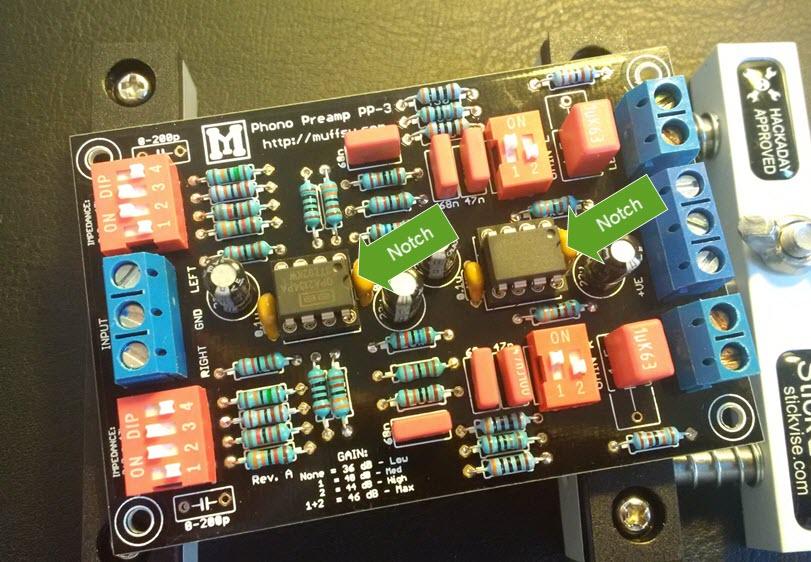 What You Get
The kit comes with all necessary components to build a complete phono stage, and there are additional upgrades that you can add to it. It uses only through-hole components, and you can build it even if you have never soldered before in your life.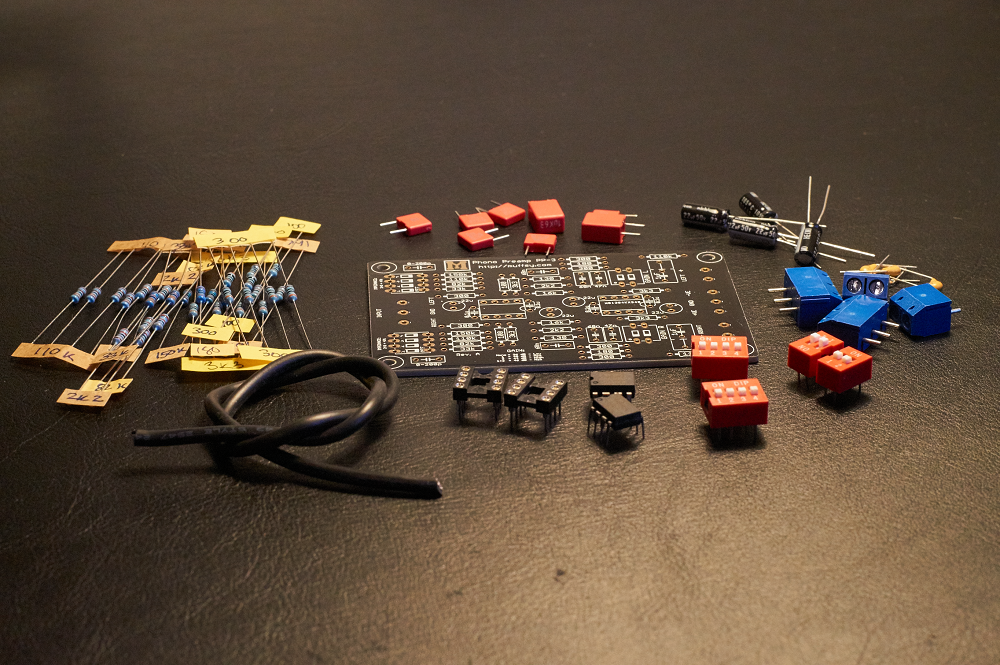 High Quality Components:
1x PCB, Black with gold plated solder pads
2x Texas Instruments NE5532PA Operational amplifiers
2x 8-pin machined DIL sockets
30x Multicomp MF25 resistors, 0.25W metal film, 1% tolerance, ±50ppm/°C
2x 4-way DIP-switches
2x 2-way DIP-switches
8x Wima MKS2 Polyester Film, box type capacitors
4x 22 uF Electrolytic capacitors
4x 100 nF Multilayer monolithic ceramic capacitors
2x Terminal blocks, 2 connections (Audio output)
2x Terminal block, 3 connections (Audio input and Power connector)
30 cm Two-lead shielded audio cable
Upgrade Operational Amplifiers:
Muffsy Hifi Dual Power Supply:
All components needed to build the power supply are included in the kit.
Muffsy Back Panel:
All components shown in the picture are included!