PCB for the Muffsy Phono Preamp PP-2
The Muffsy Phono Preamp PP-2 is a DIY hifi phono preamplifier that anyone can build.
The preamp is suitable for Moving Magnet (MM) or High Output Moving Coil (HOMC) cartridges, and even Low Output Moving Coil (LOMC) with a step-up transformer.
True Hifi
With its no-nonsense, straight forward design that focuses on both performance and cost, this preamp caters to audiophiles and music lovers alike.
For once, there is no magic involved in a true audiophile piece of equipment. You get spectacular RIAA compliance (within +/- 0.025 dB, 1-100.000 Hz), ultra-low noise, a wonderful great sound stage and superior detail. All done with with a 90x51 mm PCB and standard, off the shelf, components.
Specifications
THD: 0.00190%
THD+N: 0.01013%
SNR: 112.83 dB (Inputs shorted)
IMD: 0.0195% (ITU-R)
Crosstalk: -102.24 dB
Dynamic Range: >110 dB (THD+N: 1%)
RIAA Compliance: +/- 0.025 dB
RIAA Equalization: Passive
Gain: 36-46 dB in four steps
Input Impedance: 17k-150k ohm in fifteen steps
Input Capacitance: Optional
(Measurements done at 1 Vrms output)
Well Documented
Complete instructions for building your own phono stage are available on Instructables.com, and in-depth articles about the circuit and design choices can be found on hackaday.io.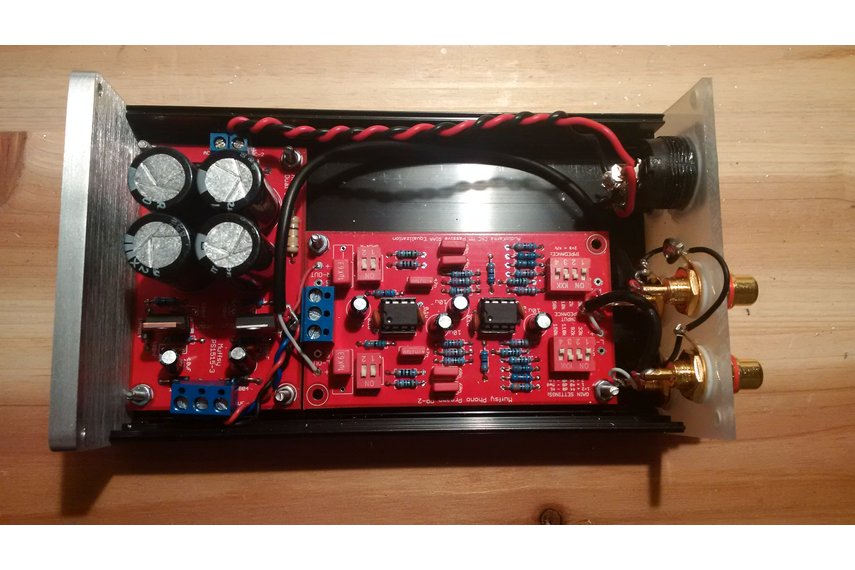 Build it Yourself
The Muffsy Phono Preamp comes as a printed circuit board. You get to choose the quality of the components that go into your own personal phono stage.
You may want to have a look at the hifi regulated power supply to power the phono stage.
Based on the AudioKarma CNC Phono Stage
The famous CNC Phono Stage emerged as a joint effort on AudioKarma.org, ignited by user Fasterdamnit: http://www.audiokarma.org/forums/showthread.php?t=371889
The AudioKarma CNC Phono Stage is simply stunning. The Muffsy Phono Preamp offers several improvements. It has a 40% smaller, high quality PCB, a rebuilt RIAA equalization circuit, and it uses only standard component values.
Features