Easy 8-digit seven segment LED display with serial interface
SPI7SEGDISP8.56 is a MAX7219 based serial seven segment LED display module that will allow you to add 8 digits of seven segment LED displays to your project using only 3 I/O pins, and provides full control of all the digit segments including decimal points.

Features:
* Operates from 3.3 to 5.5V
* 3-wire SPI interface to control 8 seven segment digits with decimal point
* 16-level LED brightness control through software
* Cascade of multiple modules is possible
* Easy interface with PIC, Arduino, Netduino, AVR, etc.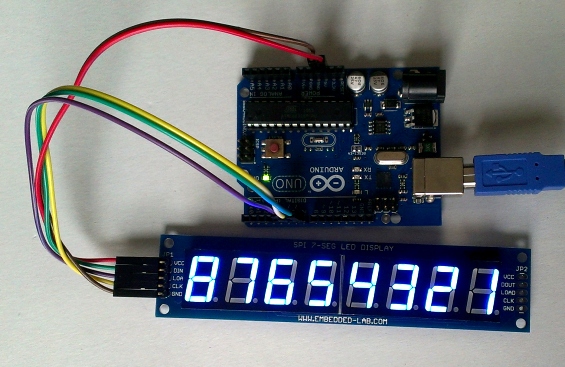 Note:
* You will receive a fully assembled and tested display board
* The seven segment LED displays included in this module emit bright blue color. For other colors visit our main store page.
Important note about shipment
First Class USPS International Package is the standard shipping service that we use for both domestic and international orders, because it is the cheapest shipping option available in the United States. No tracking available once the package leaves the USA.
This product is also available in a double row arrangement (see the picture below).