You can reach me at admin [at] embedded-lab.com for any questions regarding my products.
TrH Meter Kit
TrH Meter a DIY microcontroller-based indoor thermometer plus hygrometer that displays temperature (°F/°C) and relative humidity on 4 seven segment LED displays which adjust their brightness level according to the surrounding illumination. The displays are 1 inch big, emits bright yellow color, and are readable from more than 50 ft away. It consists of a closed loop system that continuously assesses ambient light condition using an inexpensive light-dependent resistor (LDR) and uses that information to adjust the brightness of the display. The DHT11 sensor is used to measure temperature and relative humidity. The microcontroller used in this project is PIC16F688, and it runs at 4 MHz internal clock. A separate display driver chip (MAX7219) is used to control and refresh the display data on the seven segment LEDs. A 3-position slide switch controls power ON/OFF and Fahrenheit (°F) or Celsius (°C) scale select for temperature display. You will receive a preprogrammed PIC16F688 microcontroller in the kit.
Find more details at http://embedded-lab.com/blog/?p=6582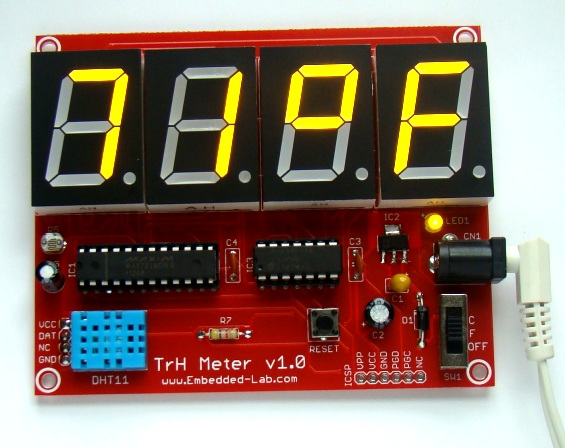 You will receive a complete kit with a preprogrammed PIC16F688 microcontroller. Here's the list of components that you will receive in the kit.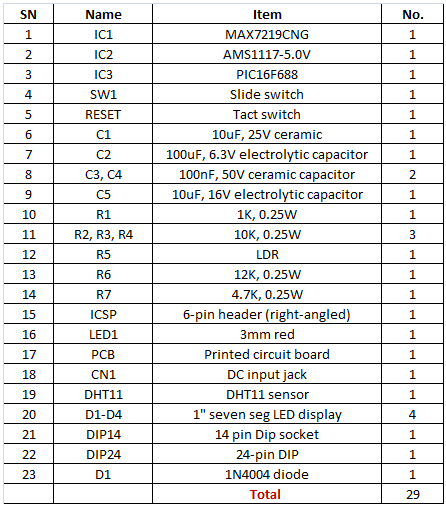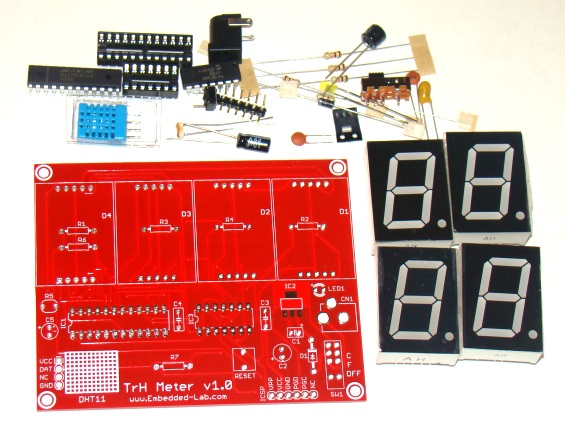 ---
Question
Feb. 10, 2014, 3:43 a.m.
Hi, how long it takes to arrive Singapore? Can I request a faster shipping?
---
Question
Dec. 19, 2013, 1:56 a.m.
I have one of those and it is great, but I think the temparature on the display seems to be a bit off (about twoo degrees too high). Is there a way to calibrate this or can I upgrade the firmware to solve this?
Response from the Seller
Jan. 29, 2014, 6:09 p.m.
The temperature output of DHT11 has accuracy of +/- 2 degree C and is internally calibrated. So, we can't really change that. The current firmware in the TRh meter takes four consecutive readings of T and R and takes average of them to minimize the variability. I am using one at my home and is consistent with my Honeywell thermostat within 1 degree C. If you think yours is estimating 2 unit higher consistently, then you may adjust for that in the firmware.
---
Question
Dec. 11, 2013, 8:37 a.m.
How long it takes for the components to arrived in south east asia?
Response from the Seller
Jan. 29, 2014, 6:10 p.m.
Usually 2-3 weeks.
---
Question
Oct. 29, 2013, 10:30 a.m.
Have you seen any issues with the Maxim IC used in this design? Mine failed this morning without reason, symptom is excessive current draw (and smoke).
Response from the Seller
Oct. 29, 2013, 10:37 a.m.
I haven't seen any such problem so far with MAX7219 IC.
---
Question
March 26, 2013, midnight
Can you be more specific as to what AC wall adaptor you used, or would recommend? What output? 9VDC@what mA?
Response from the Seller
March 26, 2013, midnight
Use 5.5mm x 2.1mm size barrel, 9V DC wall adapter (output current 500 mA or higher), such as:
http://www.ebay.com/itm/AC-100V-240V-Converter-Wall-Adapter-DC-9v-1A-DC-5-5mm-x-2-1mm-1000-mA-US-/321013671500?pt=US_Server_Power_Supplies&hash=item4abde7e64c
1 REVIEW
---

emilepetrone
Great project
Easy to build, and had easy instructions. No problems for me!

Now I just need a solar panel to attach to the back, and stick it on a window to get rid of the battery...
May 3, 2013
SHIPPING RATES
---
Rates to United States
| Shipping Rate | First item | Additional items |
| --- | --- | --- |
| United States Postal Service: USPS First Class-Tracking Info provided | $4.00 | $1.00 |
| United States Postal Service: USPS Priority Mail (3-5 Days) | $7.00 | $1.00 |
| United States Postal Service: USPS Express Mail (2 business days) | $30.00 | $1.00 |