Double row MAX7219 based SPI seven segment LED display module (PCB only)
This listing is for the PCB of the MAX7219-based SPI seven segment LED display board with 8-digits which are arranged in two rows of four. The MAX7219 allows you full control of all digits and decimal points through three I/O pins of a microcontroller. The communication interface is SPI-compatible. You can also control the brightness of the LED segments through software. Please visit my tutorial page for further details about MAX7219. The tutorial also describes how to interface this driver chip with PIC and Arduino to control the seven segment displays.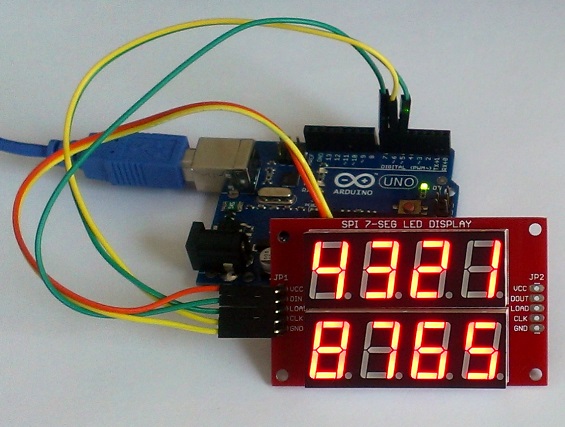 Features
3-wire SPI interface
Easy interface with Arduino using LedControl library
Operates at +5V
Multiples modules can be cascaded
16 levels of brightness control through software
Dual 0.56" 4-digit seven segment displays
Available in Red, Blue, and Yellow. This listing is for Red LED.
Note that you will receive PCB only. You will need following items for completing the board.
Read the document page for more details...
Click here for Assembled Blue LED display
Click here for Assembled Yellow LED display
Click here for Assembled Red LED display
Applications
Seven segment LEDs are brighter than LCD displays and provide a far viewing distance and a wide viewing angle. They finds application in front panel display boards of microwave ovens, washers and dryers, digital clocks, frequency counters, and many other gadgets. SPI7SEgDISP8.56-2R is suitable in many projects where you need to display two variable values simultaneously, such as displaying temperature and humidity, or current and voltage, etc.