You can reach me at admin [at] embedded-lab.com for any questions regarding my products.
Easy Pulse Sensor: A DIY pulse sensor based on photoplethysmography
by
Embedded Lab
Easy Pulse Sensor: A DIY pulse sensor based on photoplethysmography
Important note posted on Nov 24, 2013
New batch of Easy Pulse boards are arriving in our stock soon. Orders placed now won't be shipped until December 4, 2013.
Update (04/20/2013)
Easy Pulse sensor has been revised and the new version (Version 1.1) has many improvements over its predecessor. The Easy Pulse Version 1.1 uses transmission mode PPG probe (HRM-2511E) sensor that fits on finger tip and yields more stable readings. The new Easy Pulse sensor provides both analog PPG and digital pulse outputs. Now you don't have to worry about soldering as the board comes assembled and tested. The new Easy Pulse looks like this.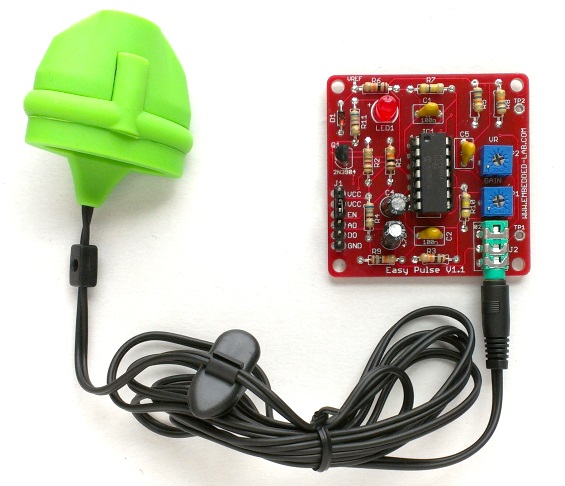 Features of Easy Pulse V1.1
Uses HRM-2511E transmission PPG sensor for stable readings
MCP6004 Opamp with rail-to-rail output capability for maximum signal swing
Separate analog and digital outputs
Potentiometer gain control for the analog output
Pulse width control for the digital output
Additional test points on board for analyzing signals at different stages of instrumentation
Operates at both +3.3V and +5V.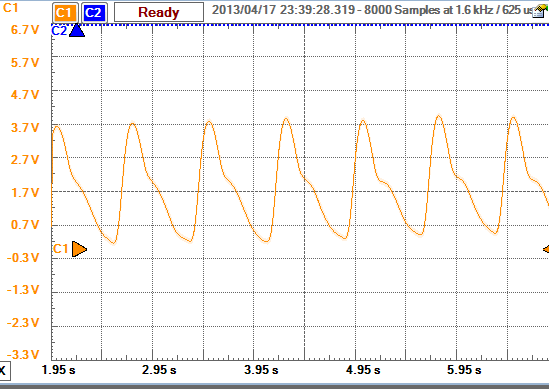 Also find details on making a PC-based pulse rate monitor using Arduino and Easy Pulse at the following link: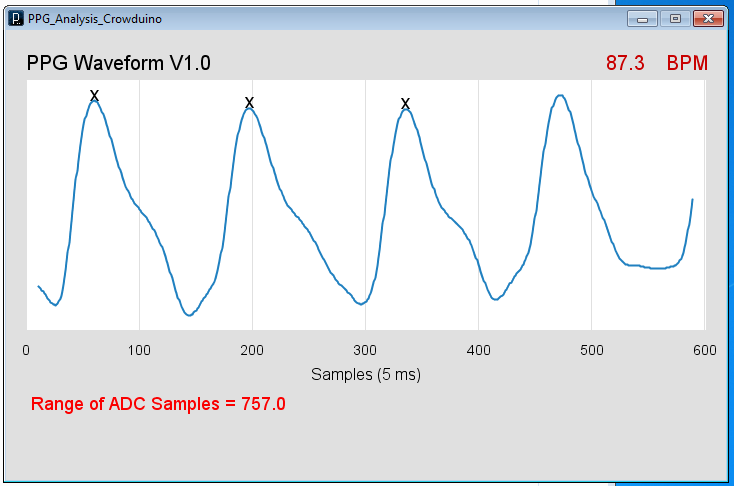 Important note about shipment
First Class USPS International Package is the standard shipping service that we use for both domestic and international orders, because it is the cheapest shipping option available in the United States. Currently we are shipping this product only to USA, and Canada. Shipping to other countries using USPS is more expensive and less reliable (I have lost two packages last month), and there is not tracking available once the package leaves the USA. International buyers may contact me at rajbex(at)gmail(dot)com to inquire about shipment option to their country.
---
Question
Jan. 18, 2014, 9:33 p.m.
Does the software allow for the determination of heart rate variability data. That is to determine the degree of variability of the pulse rate over time. More info here: http://circ.ahajournals.org/content/93/5/1043.full
Response from the Seller
Jan. 29, 2014, 6 p.m.
The current software does not have that feature.
---
Question
Jan. 14, 2014, 6:53 a.m.
Hi, I just bought one of your Easy Pulse Sensor. I would like to know how long it usualy takes to get it here in Brazil. I need it very fast for a project at College. Best Regars,
Response from the Seller
Jan. 29, 2014, 6:01 p.m.
Usually, it should take about 1-2 weeks.
---
Question
Jan. 6, 2014, 7:52 a.m.
Can the voltage output be used to drive a relay fo get a contact closure per pulse? I am using a modified wireless mouse to send signals back to my laptop and would like to use the closure to mimic a right click. I am already doing something similar replacing the right click microswitch.
Response from the Seller
Jan. 29, 2014, 6:02 p.m.
The output of Easy Pulse cannot drive a relay by itself. You can add an additional current driver circuit, such as Darlington transistor pair, to drive the relay.
---
Question
Jan. 3, 2014, 7:55 a.m.
Is there a version available that could be used to constantly monitor a pulse and set off an alarm if it drops below or above a certain amount?
Response from the Seller
Jan. 29, 2014, 6:03 p.m.
This is only a sensor, and not a full system. You can build one using Arduino along with it.
---
Question
Dec. 11, 2013, 5:14 a.m.
I want to purchase this equipment and i am from pakistan ... kindly tell me the procedure for easy and fast shippment.
---
Question
Nov. 18, 2013, 6:47 p.m.
Have you tested this with any ear-clip style sensors? For example, Kyto makes an ear version: http://www.kytocn.com/mod_product-view-p_id-106.html
Response from the Seller
Nov. 18, 2013, 7:49 p.m.
Sorry, the Easy Pulse has not been tested with this sensor.
---
Question
Nov. 17, 2013, 1:13 p.m.
How long would I have to wait for delivery to the UK?
Response from the Seller
Nov. 18, 2013, 7:50 p.m.
Approximately 2 weeks through USPS First Class International.
---
Question
Oct. 2, 2013, 11:43 a.m.
Can this sensor work with any other baord such as rasberry pie or velleman board as i will like to build an apllication in velleman baord that displays the reading from the sensor to pc
Response from the Seller
Oct. 12, 2013, 5:25 p.m.
The analog output of Easy Pulse may not be used directly to Raspberry Pie as it does not have analog input port. But yes, it can be used with any other microcontroller that has ADC capability.
---
Question
Aug. 29, 2013, 7:13 a.m.
I`m looking for an easy pulse Sensor, but I would like to know what kind of cable is used to link the sensor with the circuit. Actually I would only need a pulse sensor to make an analog acquisition on DAQ, so I would plan to cut the cable, but how many wire will I find?
Response from the Seller
Aug. 29, 2013, 8:43 a.m.
The sensor to board connection is through a 3.5mm stereo audio connector. So there will be three wires: anode of IR emitting LED, collector of photodetecting transistor, and common cathode of both.
---
Question
July 31, 2013, midnight
Can I still purchase the original version of Easy Pulse which uses reflectance rather than transmittance? I have no problem soldering the board myself.
Response from the Seller
Aug. 8, 2013, 12:47 p.m.
Sorry, we don't have any older version of this board left.
---
Question
April 29, 2013, midnight
Is assembled version 1.1 (the new one) shipping now? Also, how do I capture a stream of data to (for example) a PC?
Response from the Seller
May 10, 2013, midnight
The new version ships as assembled and tested. I will post an example soon showing how to capture and display PPG signal on PC.
3 REVIEWS
---
Verified Customer
Good performance in heartbeat irregularity monitor
I've used the Easy Pulse sensor with an Arduino Nano and Processing to build a heartbeat irregularity monitor that measures and displays the heartbeat inter-beat interval (IBI) and allows rapid audio playback of the heart rhythm for a captured sequence of beats. This information helps quantify the degree of irregularity of an arrhythmic heart and can be useful in investigating the effects of diet, medication, exercise, and other factors. The system works well and details of construction and code sketches for the Arduino and Processing are available at http://www.potomacmeso.com/heart-rhythm-monitor.html.

I found that the USB-derived 5V power source on the Nano has too much noise to allow the Easy Pulse to operate properly. I solved this problem by running the Nano 5V through a 3.3V linear regulator and operating the Easy Pulse at the reduced voltage. The sensor is affected by hand motion, finger temperature, etc., but it provides a very good price/performance value. I'm attaching a photo of the IBI display in Processing for the case of an irregular heartbeat. A normal heartbeat typically has all IBI values nearly equal.
March 9, 2014
---
Response from the Seller
Hi Paul,
Thank you for taking time to post the review. I agree the USB-derived 5V power supply gives noisy PPG outputs in some PCs. It might be because the USB port does not provide sufficient current for the IR LED and instrumentation on boad. That's why I have recommended to use an external 5V power supply in the User's Manual.
http://embedded-lab.com/uploads/manuals/EasyPulse_User_Guide.pdf
Thank you for sharing your project.
March 10, 2014
---
LSCHLEM
East Pulse makes a good HEART RATE MONITOR
I have been working on building a HEART RATE MONITOR for some time. The EASY PULSE FINGER CUP did the trick as I needed
a stable sensor. What I did was interface the A0 and D0 outputs of the EASY PULSE BOARD to a PICAXE 20X2 processor to
count pulses or BEATS PER MINUTE and use a 2 Line LCD Display to indicate HEART RATE in BEATS PER MINUTE. I am also
data logging the PICAXE Output to record HEART RATE over a 30 min period as I am doing MEDITATION. Let me know if anyone is interested in this type of experimentation. LEON
Jan. 4, 2014
---
Roissy
Impressed
I purchased this kit after purchasing a Pulsesensor AMPED kit. I'm pleased to say this Easy Pulse kit works much much better. I'm using it in a project with an AVR micro and have found that some statistical filtering is required if you want consistent and accurate readings, however this is the case with all sensors that measure real world events. Overall the quality is excellent. I especially appreciate the fact that the board has mounting holes in each corner. Delivery to New Zealand was reasonably quick.

Nov. 26, 2013
SHIPPING RATES
---
Rates to United States
| Shipping Rate | First item | Additional items |
| --- | --- | --- |
| United States Postal Service: USPS First Class-Tracking Info provided | $3.50 | $1.00 |
| United States Postal Service: USPS Priority Mail (3-5 Days) | $7.00 | $1.00 |
| United States Postal Service: USPS Express Mail (2 business days) | $30.00 | $1.00 |
Quantity
Price
1-9
$

20.5

10+
$

19.50
---
Related Products