A Raspberry Pi GPS and sensor HAT with uninterruptable power supply for use with nautical chartplotters like OpenCPN.
With the Raspberry Pi, the original 7″ touchscreen and the open source navigation software OpenCPN, a chartplotter for motor boats and sailboats can be built, which is considerably cheaper as comparable professional devices at the same operating range.
On the water external power supply adapters, loose sensor boards and breakout cables are not the best solution. Furthermore you have the risk of an outage and data lost or even the SD card gets corrupted.
The OpenPlotter HAT is an extension for the Raspberry Pi, which enables direct connection to the 12 V supply system on board and provides an uninterrupted power supply through a lithium battery.
In addition, a GPS module and sensors such as compass, gyro, air pressure and humidity are installed. A Class-D audio amplifier allows the direct connection of a loudspeaker, a reed relay and for extensions there is an optically isolated input available. Several temperature sensors, e.g. for monitoring motor or water temperatures are via the 1-wire interface connectable.
A mobile phone or tablet can be charged via the additional USB socket. This works even when the Raspberry Pi is in standby and its own USB sockets are switched off.
A Raspberry Pi typically consumes approximately 80 mA even in standby. In order to preserve the supply system on board, our on-off logic detects the idle state of the Raspberry Pi automatically and turns off the power completely.
Our board is designed precisely fitting the OneNineDesign case and is installed easily on the 40-pin GPIO header. Also the provided 2200 mAh battery fits in the case. The Raspberry keeps powered up to approximately two hours in case of system power failure.
This function makes the plotter portable and allows you to use it even off board. For instance you can have a breakfast ashore and plan your trip for the day. :-)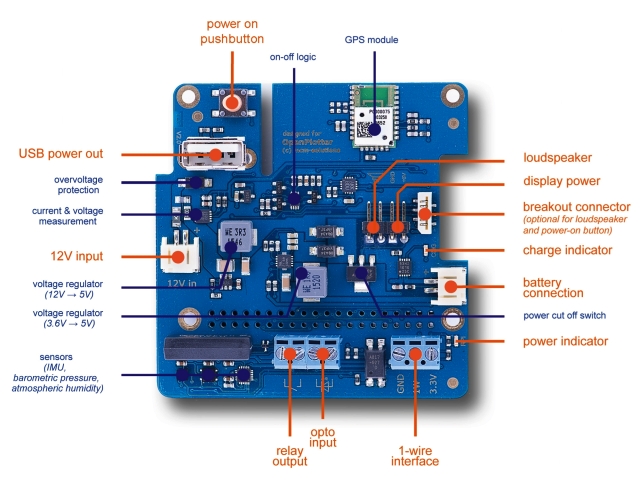 Power supply:
Voltage converter (12 V to 5 V with 3 Ampere power)

USB socket for charging mobile phone, tablet or power supply for accessories

Switch-on electronics with push-button, switch-on reset, automatic detection whether the Raspberry Pi is shut down real, complete shutdown (15 microampere quiescent only)

LED Power indicator

Input safety (polymer fuse, EMC filter and overvoltage protection)

Voltage and current measurement with query option via I²C bus (PAC1710 from Microchip)
UPS (uninterruptible power supply):
Charging regulator with 200 mA for external lithium battery, LED charging indicator

Voltage converter (3.6V to 5.0V) for the Raspberry with 2.1A power, supplied by battery
Sensors:
GPS (Antenova M10478-M2)

IMU (Compass, Gyro, Acceleration), MPU9250 from Invensense

Air pressure (LPS25HB from ST)

Humidity (SHT21 from Sensirion)

LDO voltage regulator for GPS and sensors for optimal performance
Audio:
Digital Class D audio amplifier with 3.2 Watt Power (MAX98357A)

2-pin 0.1″ header for direct connection of the loudspeaker

Speaker connection additionally on 6-pin ribbon connector
Connections:
Reed relay on screw terminal

Optocoupler input on screw terminal (12 V)

3-pole screw terminal for 1-wire (3.3 V, GND, 1 W; e.g. for external temperature sensors)

2-pin 0.1″ header with 5 V for display power

6-pin ribbon connector for loudspeaker, on button and remote control receiver
Dimensions:
Optimized for the original 7″ display and the OneNineDesign case

40-pin connector for Rasperry Pi GPIO header

No further wiring necessary
Extras (included):
Battery 18650 from GP with 2200 mAh

JST jumper wire with DC Jack 2.1/5.5 mm for power input

Hexagonal spacer M2.5 x 10 mm (0.0984in x 0.3937in)