A password keeper for all platforms and devices, can also be converted to use Arduino shields
---
Overview
Logins and passwords are critical elements we need to remember to access the different websites and services we use daily. To achieve good security, each of these credential sets should be unique and passwords should be long and complex. But remembering many long complex credentials is hard.
We therefore created the Mooltipass, a physical encrypted password keeper that remembers your credentials so you don't have to. With this device, you can generate and safely store long and complex passwords unique to each website or service you use. A personal PIN-locked smartcard allows the decryption of your credentials and ensures that only you have access to them. Simply visit a website and the device will ask for your confirmation to enter your credentials when login is required.
We therefore welcome you to have a glance at our presentation video at the end of this page.
---
Upcoming Mooltipass Mini
Please note that we're about to launch a crowdfunding campaign for a smaller, cheaper version of our Mooltipass. We invite you to subscribe to this Google group to be informed of the launch.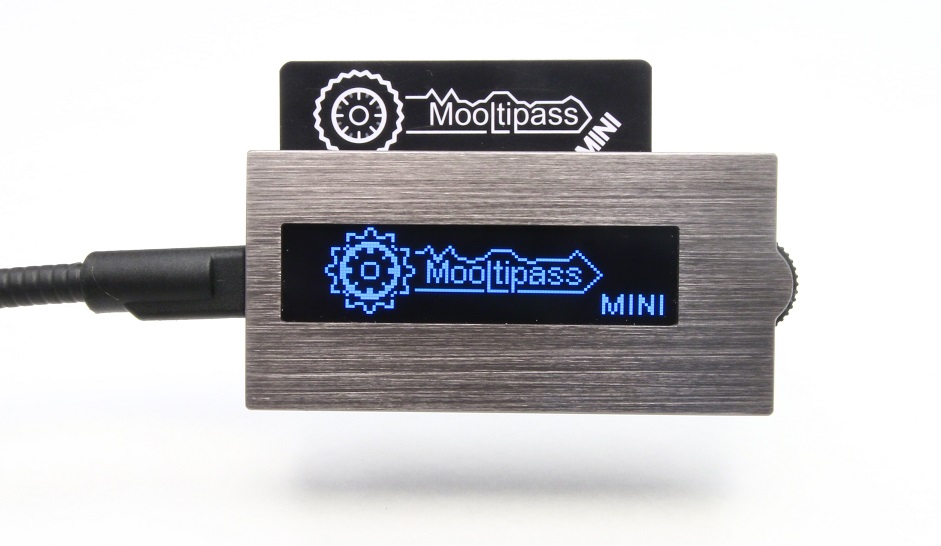 ---
Technical specifications
Can store more than 1500 credential sets (ascii based)
Proximity and touch sensing (6 keys)
Full-speed USB (microUSB connector)
ATMega32U4 main micro-controller
Card recognition limit: 37 cards
1Kb read protected smartcard
256x64 pixels OLED screen
AES-256 bit encryption
User limit: 15 users
4Mb flash storage
Maximum number of characters: 62 for login, 31 for password
---
What is included
This listing includes one Mooltipass with 2 smartcards and a USB cable. For advanced technical details on the device please have a look at our GitHub repository.
---