LameStation is the game console parents want their kids to play!
Every parent wants their kids to be the next tech genius, but where do they start? I created LameStation, not just to teach hardware and software, but to show kids what they could accomplish if they put their minds to it.
Every LameStation is a journey where kids can explore the inner workings of their very own game console. By assembling it from scratch, they get to see how every part works. By writing their own games, they can discover how a computer works from the ground up. You see your kids' eyes glued to their screens anyway. With the LameStation, you want their eyes glued to the screen, because they're learning and playing at the same time. LameStation is the perfect addition to STEM classrooms, after-school programs, workshops, and more!
Take it for a Spin!
The LameStation is programmed in the Spin programming language, a unique, Python-like language designed specifically for the Propeller microcontroller.
LameStation comes with a huge selection of libraries, example code, games, tutorials, and more—everything you need to get started.
Why LameStation?
I always thought it would be awesome to write games for a game console, but all the ones that I found were either industrial-strength complicated and hard to understand, or so easy that I wasn't learning anything. So I created my own console to bridge that gap.
LameStation is simple to start with, but grows with you as you acquire more skills. It's really how far you want to take it. You can go from newbie to guru in no time.
Included in box: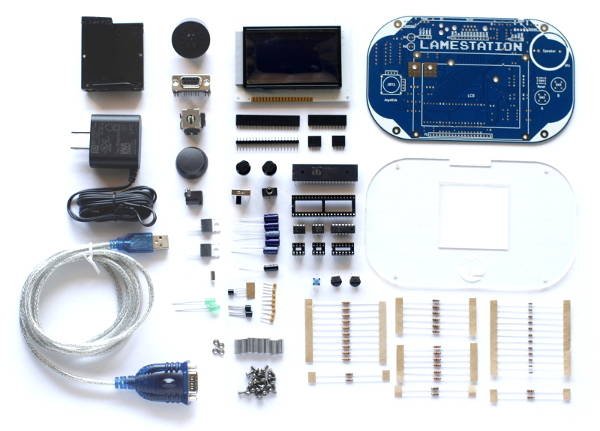 All the parts to build 1 LameStation gaming handheld
Power supply
USB programming cable
Tech specs:
Parallax Propeller microcontroller
8 32-bit processor cores running at 80MHz
32kB RAM
Programming in the Spin language
Two ways to program
Serial programming port
Prop Plug programming header
128x64 monochrome LCD
Mono audio with 8Ω speaker and headphone jack
Four-way joystick
A, B, and reset buttons
8-pin expansion port