The product compensates for your personal hearing loss when connected to audio equipment such as a TV, radio or any other playback device
Deutsche Version siehe unten
Free Shipping!
What is it?
The Amblyacousia Compensator (hearing amplifier) is a device which is connected to any audio equipment (such as a TV set or radio) using a 3.5 mm stereo audio jack and allows you to connect your headphone to it. It receives the audio signal and processes it in such a way as to compensate for your personal hearing loss in order to provide you with an optimum listening experience.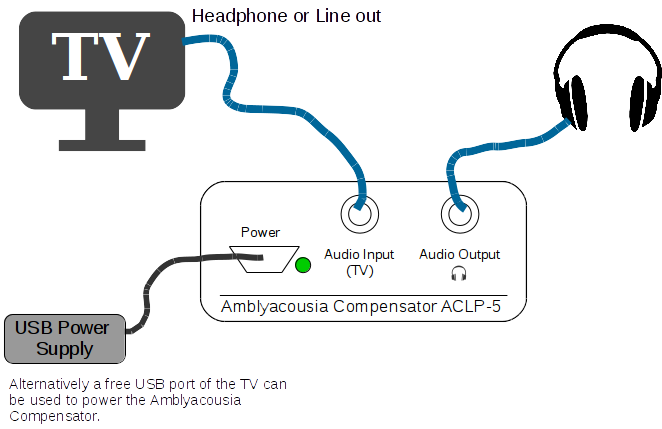 The hardware design allows for compensation of complex sensorineural hearing problems and can adjust up to 11 different frequency bands on each channel as well as for the balance between your ears. These techniques are best suited to improve speech intelligibility of TV shows and movies when connected to a TV set.
Similar to your glasses your Amblyacousia Compensator will be personalized for your individual hearing loss. In order to do so we will need your tone audiogram with your order.
Examples: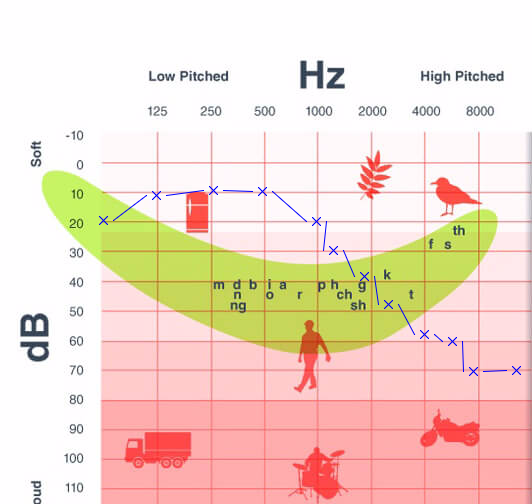 The picture above shows an annotated tone audiogram to provide an impression of which frequency band is responsible for proper hearing in different situations.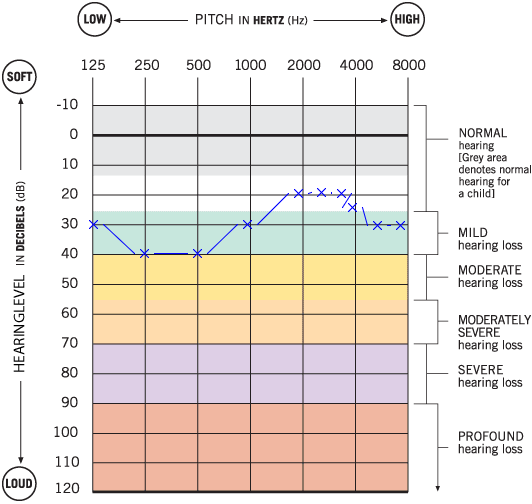 The example above shows a tone audiogram as would be needed to adjust the Amblyacousia Compensator to your hearing.
Even though we strongly recommend to consult a doctor or an acoustic professional for creating your tone audiogram you can also use your Android phone and a (free) app.
Please use this link to send us your hearing test graph: Send hearing test
Why did you make it?
I designed this product for my father, who suffers from moderate hearing loss and has severe problems understanding TV shows and movies when listening to the speaker output of a normal television. Things got even worse with the new flat screen devices which use relatively small speakers. However, the use of normal headphones does not solve the problem since his ears have a significant attenuation of several voice frequency bands. His normal hearing aids are not an acceptable solution either, since the audio quality of modern flat screen TVs is usually limited and is additionally degraded by the microphone receivers of the hearing aids, especially in combination with background noise.
The Amblyacousia Compensator directly processes the audio signal coming from the audio output in such a way that the problematic frequencies are emphasized. This process is not affected by the flat screen speakers and provides superb perceived audio fidelity and significantly improved speech intelligibility.
Since my father is very pleased with this solution, I decided to help more people facing the same problem and make my development effort available to the public.
Quality attributes
During design and production of this product, I placed particularly high value on its quality. It is hand-made in Austria and only uses high quality components, mainly sourced from European suppliers. The PCBs have been designed by myself and are produced in Germany. Additionally, I tried to use conflict free materials as much as technically feasible and avoided the use of harmful substances and sensible minerals (such as tantalum).
Product Brief
Compensates for up to 11 different frequency bands on each channel
Full stereo support
Capability to drive high- and low impedance headphones (use power output option if you plan to use a low-impedance headphone)
Compatible with cordless headsets
Simple Micro-USB power supply
3.5 mm standard stereo audio jack for input and output
Extremely low output noise
High fidelity audio processing from 16 Hz up to 50 kHz
Power supply indication lamp
English version see above
Was ist der Amblyacousia Compensator?
Der Amblyacousia Compensator kann mittels 3,5 mm Stereosteckern mit einer beliebigen Audioquelle wie beispielsweise einem Fernseh- oder Radiogerät verbunden werden und erlaubt den direkten Anschluss sowohl von kabelgebundenen als auch von kabellosen Kopfhörern. Das empfangene Audiosignal wird individuell an Ihre Hörkurve angepasst, sodass Ihre Schwerhörigkeit ausgeglichen wird. Dadurch können Sie einerseits Ihre Musik wieder in optimaler Audioqualität genießen und andererseits wird die Sprachverständlichkeit bei Fernsehsendungen oder Hörspielen deutlich verbessert.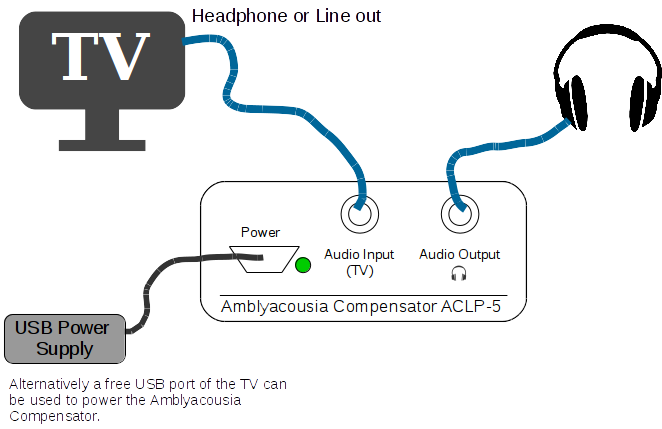 Mit der vorliegenden Hardware können auf Basis von einzelnen Oktaven auch komplexe Hörkurven nachgebildet werden. Dafür stehen jeweils 11 frei konfigurierbare Frequenzbänder pro Audiokanal sowie eine zusätzliche Balance-Korrektur zur Verfügung. Dadurch kann in Kombination mit einem Fernsehgerät speziell die Sprachverständlichkeit bei modernen Fernsehsendungen oder Filmen (wie beispielsweise "Tatort") erheblich verbessert werden.
Ähnlich wie eine Brille muss auch der Amblyacousia Compensator an Ihre persönliche Hörkurve anhand eines Tonaudiogramms angepasst werden. Sie können dieses jederzeit von ihrem HNO-Arzt oder Hörgeräteakustiker bekommen.
Tonaudiogrammbeispiele: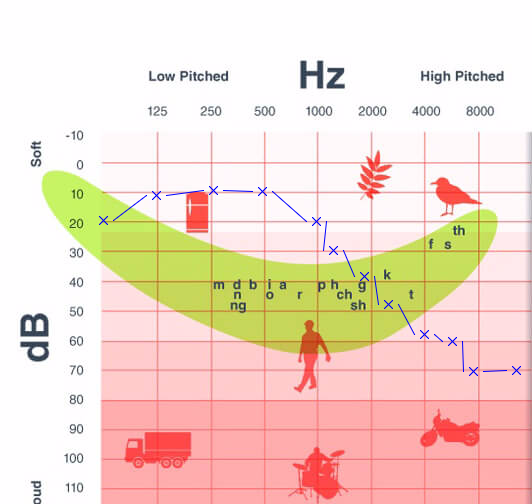 Das Bild oben zeigt ein annotiertes Tonaudiogramm und soll so eine Vorstellung davon vermitteln, welche Frequenzen für unterschiedliche Hörsituationen verantwortlich sind.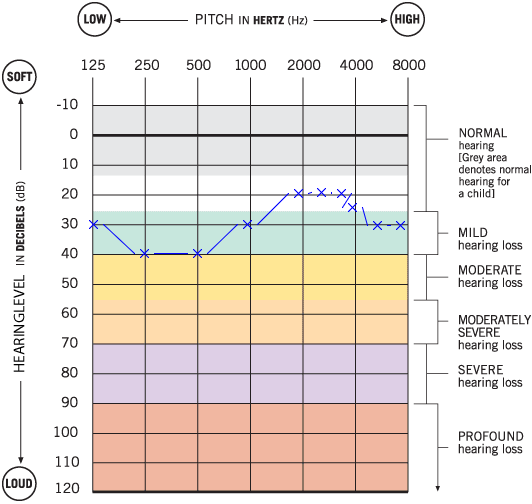 Das Beispiel oben zeigt ein Tonaudiogramm wie es von uns benötigt wird, um den Amblyacousia Compensator an Ihr Gehör anzupassen.
Um ein optimales Hörergebnis zu erreichen empfehlen wir unbedingt das Tonaudiogram von einem HNO Arzt oder Hörakustiker erstellen zu lassen. Alternativ dazu können Sie aber auch ihr Android Smartphone mit einer entsprechenden App verwenden um das Tonaudiogram zu erzeugen.
Hörtest App zur Erstellung von Tonaudiogrammen
Bitte verwenden Sie folgenden Link um uns Ihr Tonaudiogram zu übermitteln: Tonaudiogramm senden
Warum habe ich den Amblyacousia Compensator gebaut?
Ursprünglich habe ich das Gerät für meinen Vater, der berufsbedingt unter einem moderaten Hörverlust leidet, entwickelt. Da seine Hörleistung besonders im Bereich der Sprachfrequenzen eingeschränkt ist, litt er an erheblichen Problemen moderne TV Sendungen zu verstehen. Weiter verschlechtert hat sich die Situation zusätzlich durch die neuen flachen TV Geräte, welche bauartbedingt nur mäßige Audioqualität liefern. Kopfhörer alleine können dieses Problem nicht lösen, weil sein Gehör Sprachfrequenzen schlechter wahrnimmt als beispielsweise Hintergrundmusik und andere Nebengeräusche. Letztlich sind auch die üblichen Hörgeräte keine zufriedenstellende Lösung, weil die ohnehin eingeschränkte Tonqualität der TV Geräte durch die miniaturisierten Mikrofone weiter verschlechtert und durch allfällige Nebengeräusche zusätzlich gestört wird.
Der Amblyacousia Compensator hingegen verarbeitet das vom TV Empfänger kommende Audiosignal direkt und kann so wichtige Frequenzbänder entsprechend hervorheben und gleichzeitig Nebengeräusche absenken. Dadurch ergibt sich nicht nur ein als erstklassig empfundenes HiFi Erlebnis, sondern auch eine optimierte Sprachverständlichkeit in allen Situationen.
Da ich für meinen Vater mit dieser Lösung hervorragende Ergebnisse erzielen konnte, möchte ich als nächsten Schritt meine Entwicklung einer breiteren Öffentlichkeit zugänglich machen, um Menschen zu unterstützen, die an ähnlichen Problemen leiden.
Qualitätsmerkmale
Während der Entwicklung und der Produktion dieses Produkt wurde besonderes Augenmerk auf Qualität gelegt. Jedes Gerät besteht aus sorgfältig ausgewählten, qualitativ hochwertigen Bauelementen von überwiegend europäischen Herstellern und wird in Österreich von Hand gefertigt und geprüft. Die Hauptplatine wurde von mir selbst entworfen und bei einem namhaften Hersteller in Deutschland produziert. Zusätzlich dazu versuche ich konsequent umstrittene oder schädliche Substanzen sowie sensible Rohstoffe und Mineralien (z.B. Tantal) zu vermeiden und durch weniger schädliche Alternativen zu ersetzen.
Produkt Übersicht
Kann bis zu 11 unabhängige Frequenzbänder pro Kanal ausgleichen
Volle Stereounterstützung
Kann normale und niederimpedante (Studio-) Kopfhörer ansteuern (für niederohmige Studiokopfhörer bitte die "Power Output Option" auswählen)
Unterstützung für Infrarot- und Funkkopfhörer
Einfache Stromversorgung via Micro-USB Anschluss
3.5 mm Standard Stereo Audio Ein- und Ausgang
Hervorragende Rauschkennzahl
Qualitativ hochwertigste Tonverarbeitung von 16 Hz bis 50 kHz
Stromversorgungskontrollleuchte