Production files for Universal ATMEL AVR ISP programmer
Hardware Gerber Files ONLY --> Ready for Production <--
Completely assembled product version is available here:
What is it?
The universal ATMEL AVR programmer is a generic stand alone hardware tool allowing you to read and write many AVR based ATMEL micro-controller. It comprises a 40 pin ZIF socket to connect controllers in large DIL packages as well as an 8 pin DIP IC socket for smaller devices like ATTINY13 and ATTINY25. Additionally the universal programmer features a 6-pin and a 10-pin ICSP (ISP) connector to comply with all in-system programmable target devices.
The programmer is compatible and tested with the freely available open source tool AVRDUDE for Linux, MacOS and Windows, but can also be used directly for AVRStudio (it will be recognised as STK500v2).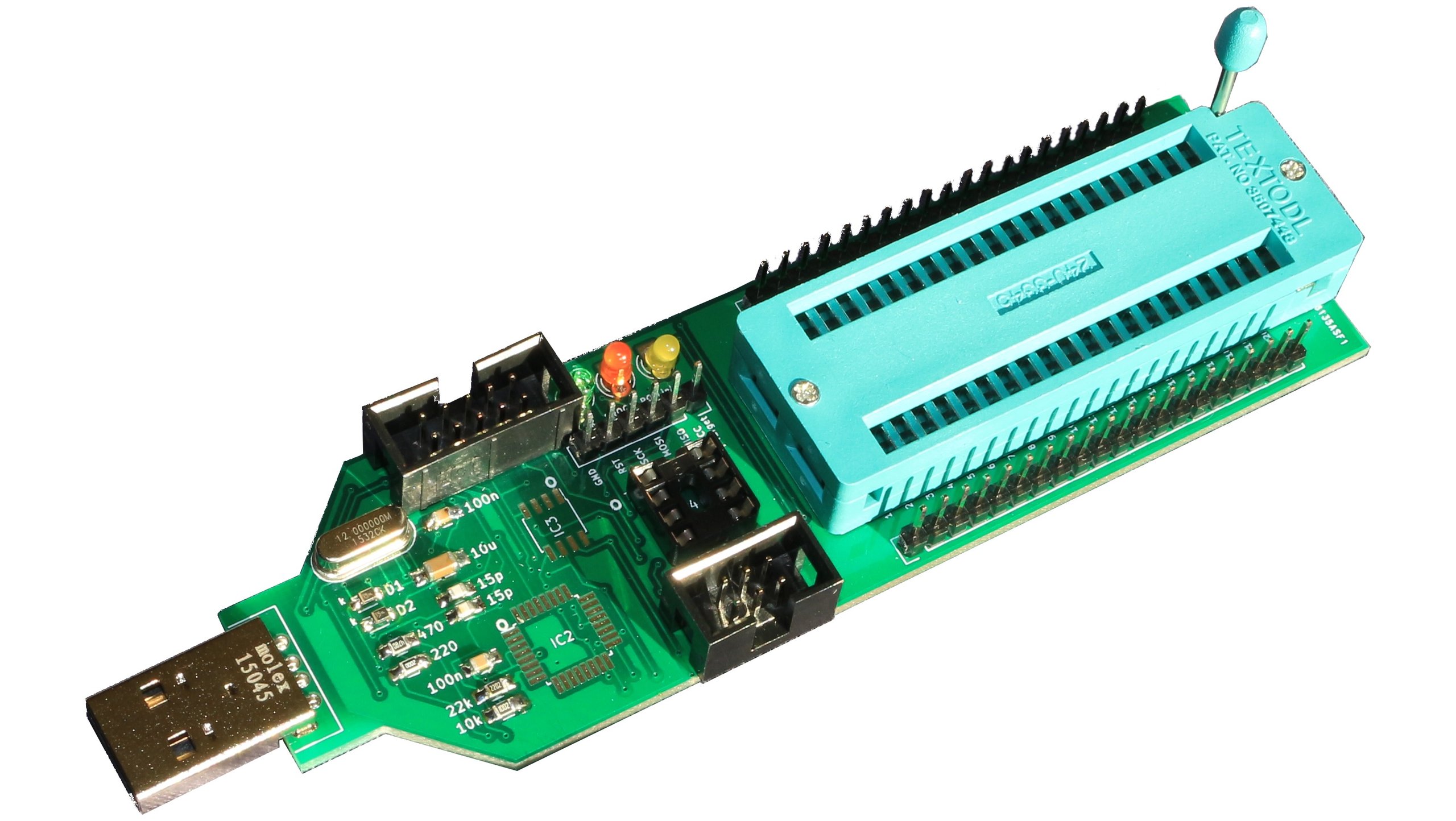 Product Brief:
3 status indication LEDs
16 MHz crystal oscillator
40-pin ZIF socket
8-pin small micro-controller device socket
6-pin ICSP connector
10-pin ICSP connector
programming footprint for TQFP-48 (e.g. ATMEGA8)
programming footprint for SOIC-8 (e.g. ATTINY13 and ATTINY25)
USB Type A Connector (direct access to PC)
Automatic 5V target supply
Target supply readout via software
No assembly required (all boards come pre-assembled and tested)
Update able firmware
Compatibility
The universal AVR programmer has been carefully designed to support as many different micro-controller devices as possible. The build in programming sockets and ISP connectors support devices including, but not limiting to:
ATtiny11
ATtiny12
ATtiny13
ATtiny15
ATtiny24
ATtiny25
ATtiny44
ATtiny45
ATtiny84
ATtiny85
ATtiny2313
ATtiny4313
ATmega8
ATmega48
ATmega88
ATmega168
ATmega328P
Shipping info:
Worldwide FREE shipping via Email.
Estimated delivery time 1-2 business days.