Arduino compatible, Atmel SAM D21 chip, open source!
What is it?
This is one of the smallest ARM powered boards in the world. If you are ready to transition away from AVR 8-bit hardware to the very powerful ARM 32-bit stuff, this is the way to learn! The board design, schematic, and parts lists are completely open-source.
Arduino installation: See https://github.com/femtoduino/ArduinoCore-atsamd21e18a
We are shipping revision 1.0.1, which now includes Arduino support, a low power 32.768MHz crystal, USB Host capabilities, and an onboard RGB LED + push button.
Why did you make it?
To give the maker community an easy way to learn ARM design! Before the release of the FemtoUSB, learning to design for ARM chips was very difficult. Compiling a tool chain? What does the most basic schematic for an ARM chip even look like? What in the world is JTAG?
With this project, I've documented the basics, and made a path into ARM design for everyone.
What makes it special?
The FemtoUSB is design to be simple! What you learn with this design will teach you the basics for all other types of ARM chips.
Best of all, the entire design, build suite, and examples are open source! You don't need shockingly expensive tools, or vendor locked software to work with Atmel's line of ARM chips! Did I mention it's easy to learn?
We are working with Arduino Devs to have broader support of the Atmel SAM D21 chips (the same chip used on the Arduino Zero).
UPDATE: We now provide an Arduino core and bootloader for the SAM D21E, based on the Arduino Zero (but different pin count). This works w/ revision 1.0.1 or higher, as a 32.768KHz crystal is required.
Specs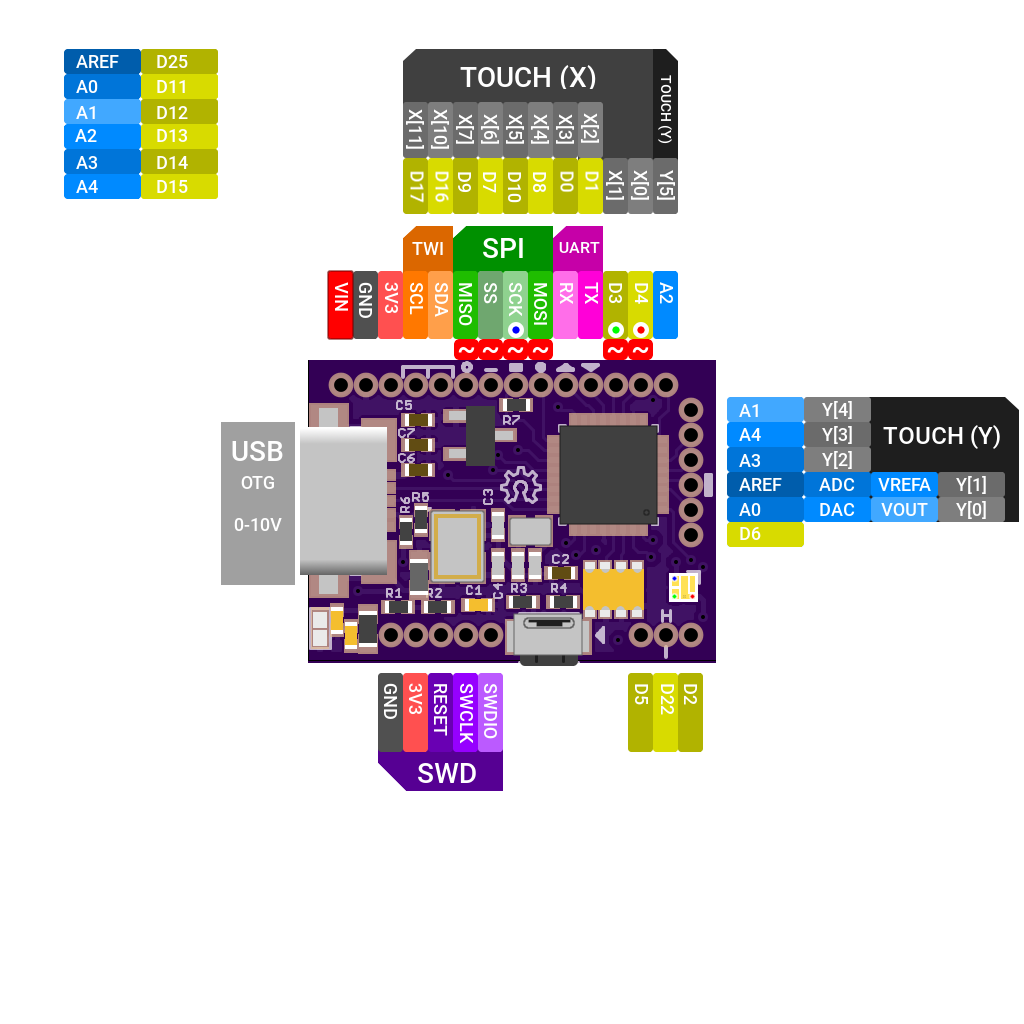 3.3V On-board regulator (VIN line). Supply up to 10V, regulated down to 3.3V on the 3V3 line. We pre-load the SAM-BA bootloader, so you can upload compiled examples over USB, thanks to the open source BOSSA utility! Design comes in standard 0.1in (2.54mm) pin spacing design for breadboards, and the smaller 0.05in (1.27mm) pin spacing design for ultra small projects.
Examples