Wifi connected soil moisture sensor measuring moisture, light, soil temperature and nutrition
The GreenThumb
The GreenThumb is the perfect tool to keep track of the most important factors to keep your plants healthy. This sensor measures the water content, soil temperature and nutrition levels of soil and the amount of light the plant gathers.
The GreenThumb wakes up at a regular interval to report the status of the plant. This report can be submitted to your own (locally hosted) server or to your personal space on our free online database.
Our online service gives you a graphical overview of all of your plants: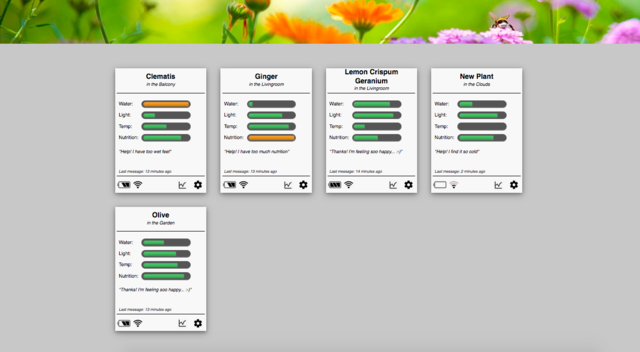 Detail overview: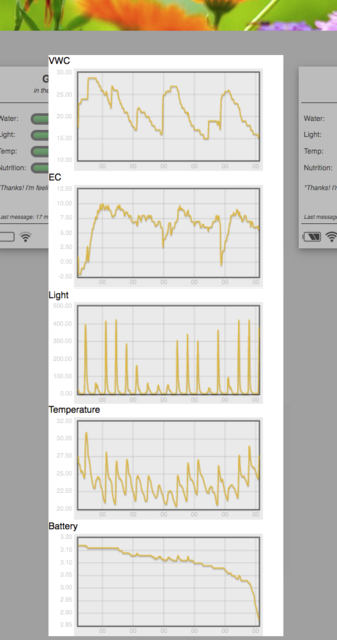 Technical part
The GreenThumb uses a frequency domain technique to measure the water content at a very high oscillator frequency. This makes the sensor less sensitive to soil types and nutrition levels compared to similar sensors on the market.
The sensor uses a single 14500 size battery. Both Li-ion as the much safer LiFePo4 battery's are supported. With regular intervals the rechargeable battery has a life span of up to 84 days. Special care has been taken to select the best possible switching regulator for the sensor to allow maximum usage of the battery energy.
Dimensions: 2.4x6.9cm above ground and 1.5x6.2cm in the ground.
Temperature range: -20 to +50 Celsius
Output Water content: 0 - 1024 points linear
(custom) firware update: using configuration mode or connector pins
Input voltage: 3 - 5 Volt +/- 2%
UART pins available for custom software
Sensor Configuration
The Graphical User Interface allows you to configure the sensor to your needs. This mode can also be used to perform on-site calibrations and firmware updates.
By pressing a button on the sensor within 5 seconds after insertion of a battery, the GreenThumb will boot to configuration mode. You can connect to the configuration panel of the GreenThumb using your laptop, home PC, phone(android & iOS) or any other wifi capable device.
Other information
Battery not included with the sensor. A standard 14500 rechargeable Li-Ion or LiFePo4 battery is used. Make sure to insert the battery with the right polarity!
The GreenThumb comes with a green splash water tight ABS housing. The sensor legs are coated with special lacquer to allow maximum lifetime of the sensor