A wireless module for monitoring the temperature and humidity in and around your home
This sensor measures temperature and relative humidity and sends it (via the receiver) to the desktop application. I built this sensor to monitor the temperature and humidity in and around my home. I use two of these, one for inside and a second for the outdoors.
I have a neighbor who has had problems with ground water under his house. He has done a lot of work to mitigate the problem with a moisture barrier, a sump pump and an industrial size dehumidifier. He uses one of these to monitor the temperature and humidity under his home to make sure all is working properly.
This sensor is not water proof so for outdoor use it needs to be placed on a porch or under an awning or eave to protect it from direct rain and sun. Direct sun won't harm the sensor but will warm the case and give an inaccurate temperature reading.
How it works:
The Sensor module's firmware reads the DHT22 or DHT11 temperature and humidity sensor once per "Interval" (default once per hour), sends the status to the Receiver and then goes into a deep sleep until it is time to take another reading.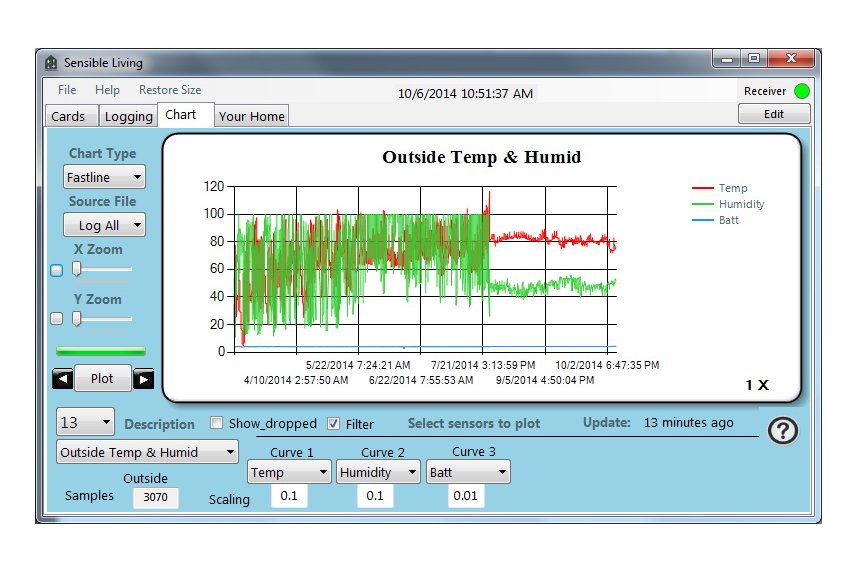 In the chart view above, you will see about seven months of data from this sensor starting in late February to early October. (I live in south western Missouri so we can get wide swings in both temperature and humidity over the course of the year. The low for this period at my house was 19 degrees on the 27th of February with a high of 116 in August.) From February to August the sensor was outdoors and then was moved into my office.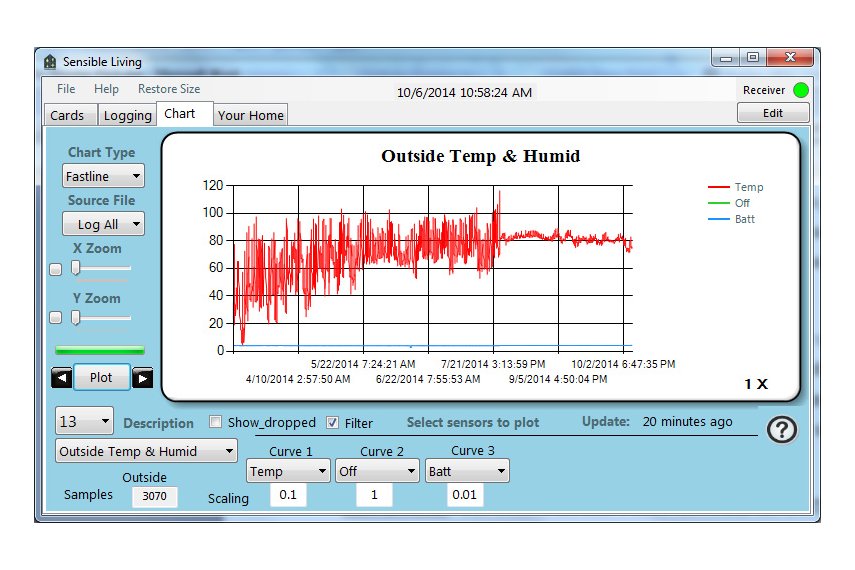 In the second chart (red), I have turned off the humidity information to just show the temperature and battery information.
The Sensible Living Receiver and Desktop application are designed to work with the Temperature & Humidity Monitor. The Desktop Application can then be configured to send you a warning message if the either reading is too high. Using the Chart feature you can also look at the temperature and humidity profile in or around your home over days, months or even years.
The DHT11 and DHT22 sensors:
The DHT11 Temperature and humidity sensor is a less expensive and a little less accurate sensor.
           Relative   Temperature
           Humidity   in degrees C
 DHT11     +/- 5%     +/- 2º C
 DHT22     +/- 2%     +/- .5º C

Depending on your requirements the DHT11 alternative could be a more economical solution to your monitoring needs.
Also available on this site:
All of these sensors were built to address specific needs around our home and for our extended family.
Arduino ® enthusiasts
If you are interested in playing with wireless sensors and know the Arduino environment you can use this board as the starting point of your own unique device. The Arduino sketch is freely available as a starting point.