G002A Hygrometer Detection
Features
Moistureproof material, durable
Round-corner process
Standard XH2.54 interface
Range of application
Electronic DIY
The graduation projects
Specification
Size: 65 mm * 20mm
The installation hole size: Φ 3
Insert depth: 52mm (MAX)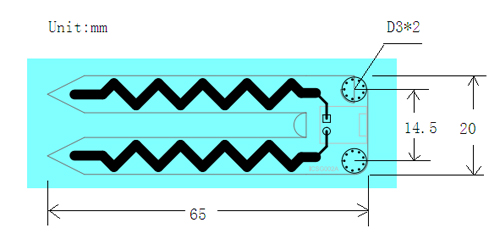 Method of usage
Insert soil moisture sensor to the soil. If the soil moisture is different, the resistance between the two copper foil wil change.
The more humid, the smaller the resistance is, and vice versa.
Note: Please mark the output under different humidity before use it.
Notes
Please don't damage the bare copper platinum
Please do not measure the acid or alkaline soil.
This module is expendable, the service life of the concrete and the use time depends on your usage.