ESP32-T WiFi IOT ESP32 Module Development Board Suit ESP32-Bit Wireless WiFi Module
Note: It is not an assembled product. Thanks for your understanding.
Description
Dual core processor, clocked at 240MHz, computing power up to600DMIPS.Built in 520 SRAM KB.
Built in 802.11BGNHT40Wi-Fi transceiver, baseband, protocol stack and LWIP
Integrated dual mode Bluetooth (traditional Bluetooth and low power Bluetooth), it is important that Bluetooth and WiFi can coexist!
4 x DAC, 2 x I2C, any GPIO can be configured as PWM / timer and I / O, OpenOCD debug interface with 32kB, 2 x DAC, 2 x I2C, TRAX cache, 50MHz SDIO master / slave mode, the maximum support 16MB external SPI Flash, support SD card interface.
Features:
Linux, Windows, Mac multi-platform development support.
21.5 * 15mm ultra-small area
Provides IPEX external antenna connection interface, user-friendly closed integration
Four-layer circuit board technology, better signal quality
Provides a key download circuit program;
32Mbit large FLASH!
The ESP32 has: WiFi, DeepSleep, Hall Sensor, Capacative Touch sensors, Bluetooth, BLE, High Speed variable frequency/variable duty cycle PWM, Low speed variable frequency/variable duty cycle PWM.
About the Pin: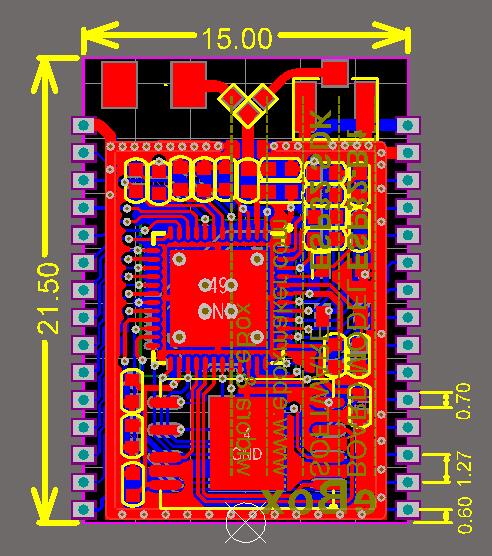 Tested by Partner learnelectronics: