X-toaster is a controller board designed to convert any common toaster oven into an SMT reflow oven.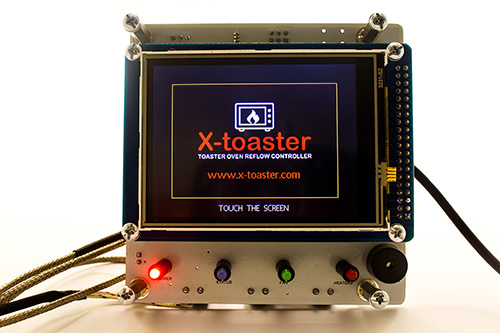 WHAT IS IT?
X-toaster is a Reflow Oven Controller specifically designed to convert any normal toaster oven into a reflow oven. It can drive two external SSR to enable control of the heaters and, if present, the oven fan.
The heart of the system is an Atmel ATXmega128 which can be reprogrammed by the user through the onboard PDI connector. To amplify the signal coming from the thermocouple we selected the MAX31855 which supports any K-type non-grounded probe.
There are three profiles stored in EEprom which can be modified and re-programmed whit your own, to adapt the system to various PCBs, solder pastes and ovens.
Temperature control is provided by a custom PID algorithm with some unique predictive feature to smooth any fast changing ramps in the profile and an exclusive overshoot compensation.
GUI has been designed to work on a 3.2" color touch screen. There is no need to connect an external PC for programming: everything is controllable directly from the touch screen.
Safety features include a programmable timeout, two sensors to check for onboard and external over temperature, oven maximum temperature control, and hardware malfunctioning control.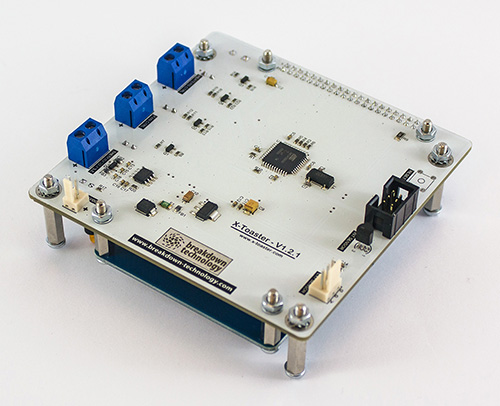 WHY X-TOASTER?
I designed X-toaster because I needed a Reflow Oven Controller for my company, for small batches productions and for prototyping pourposes, when dealing with QFN and BGA.
I knew that out there there was a billion of other DIY toaster oven reflow controller ready to be used, but none of them seemed to fit my specific needs:
I needed something easy and quick to setup with any toaster oven without having to completely modify it. A nice package with everithing needed (thermocouple, SSR, heatsink) already mounted or in the kit would have been a plus.
I was searching for something easy and flexible to use with a nice stand alone GUI and without PC connection: it is not funny having to always move your oven on your desk every time you want to reprogram a profile. Beside, I do not really need to keep track and save on the hard disk every single reflow session… but I should be able to modify and store them "on the fly", when needed.
I wanted to test the use of convection fans so I needed something able to drive both heaters and a fans
I wanted something with a nice and effective PID algorithm. Any predictive algorithm combined with PID would have been a nice plus.
I wanted as much control as possible over PID variables and any other driving algorithm to be able to tweak as needed
I wanted something with a graphic display to be able to really see, in real time, how the oven is responding
Since I had other project to follow and little spare time I needed something "ready to go": buy it, mount it in an enclosure, connect it with the oven and start reflowing my boards
I wanted the possibility to store more than one profile to be able to quickly switch between them (Leaded, Leadfree, small or large PCB, smal or large components, etc…)
Security: while a DIY project cannot really be defined completely "safe" without some sort of extreme end extensive testing I did not want to run the risk of starting a fire. I really wanted something with at least a timeout with automatic shutdown and some sort of limiting over controller PCB temperature and, maybe, an external temperature probe to check the SSR temperature. I wanted the controller to shut everything off if temperatures get too high
I could not find a controller with all these features, so I made my own.
USER INTERFACE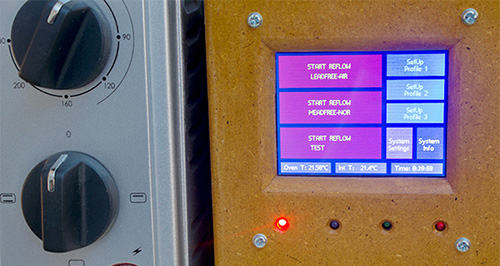 Every parameter and all the profiles are programmable directly from the user interface with no need to mess with PC software, drivers, USB or ethernet cables. Here are a couple of screenshot:
Home Screen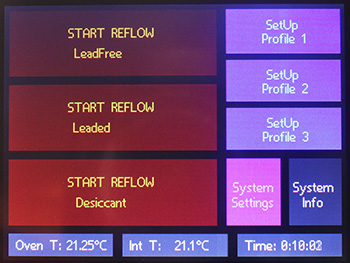 Reflow Profile Programming
Reflow in progress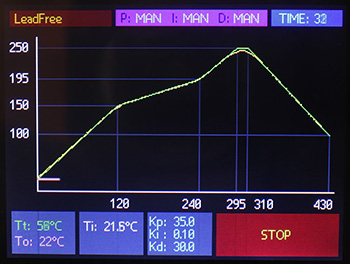 System Settings
FEATURES
ATXMEGA128 MCU
MAX31855 K-type thermocouple amplifier
On Board buzzer for alarms and user notifications
Screw connectors for SSRs and thermocouple
Onboard 3.3V regulator (5V regulated input)
3.2" Color TFT display with Touch Screen which allows for standalone operations without a PC
Fast parallel LCD interface for a smooth GUI
Modified PID algorithm to address thermal inertia and hysteresis
On Board LEDs for POWER, STATUS, SSR and FAN
On Board DS18B20 + 3 pins connector for another external sensor
Three pre-programmed profiles for lead and lead-free soldering reprogrammable by the user
For a quick and general use there is no need to open and internally modify the toaster oven
Ready to be mounted on a front panel, supplied with the necessary standoffs. On the website you can also find a skethup model and an "HowTo" article with a few drawings and a template
Lead Free and RoHS compliant
Industrial temperature range: -20°C ~ +70°C
Board Size: 98mm x 96.5mm
KIT CONTENT
You can customize your KIT by adding the items shown in the options. The base board includes:
X-toaster Board assembled and tested
Connectors
Touch Screen Stylus
RESOURCES
WARRANTY, REFUNDS, DISCLAIMER
X-toaster comes with a limited warranty of 12 months from the moment the board is shipped to the customer.
All our boards and kits are returnable and refundable within 14 days from the shipping date (30 days for international orders). To be elegibile for a return your item must be unused, unmounted, never powered in its original unopened package.
Please make sure to read and agree with our Shipping Policy, Refund Policy and Terms of Use and Warranty Conditions.
FOR EUROPEAN BUYERS: products sold on Tindie are VAT exempt, hence only for non EU countries. If you are willing to buy from inside European Union you should place your order directly from our website www.x-toaster.com where a VAT will be calculated and added to your order. If you are a business with a registered EU VAT number you can also get a VAT exemption by inserting your VAT number on our website at checkout. Thanks for understanding.
*Please note that while the board itself works with low voltages, mains power voltages may be involved when mounting and using it. High voltages can be lethal and in the worst case may lead to electrocution and possibly death. It is assumed that you are a competent engineer and you know what you are doing. If not, please do not buy and/or use this product or search for a trained technician in your area that can help you. *