Wifi Board can be used for Home automation & with open source Android App
Watch the video for details Please Note : Some old images may show 12V/5V input but currently as per the new design it is 9V or 5V DC input This Boards comes with arduino bootloader loaded on Attiny85 and has the esp8266 module plugged on to it. You will be able to customize your code as per your requirement using arduino IDE. You will need an arduino board/ISP AVR programmer to program the attiny85 (but it does comes with preloaded basic code).
Specification
It has an on board Attiny 85 Loaded with Arduino Bootloader.
Direct Plugin for Esp8266 Wifi Module.
A Relay to control AC/DC Loads.
One open GPIO header with VCC and GND to connect sensors like PIR.
9V/5V selectable input.
LED for Testing with is connected to a GPIO
Link of ARMTRONIX it is an open source project.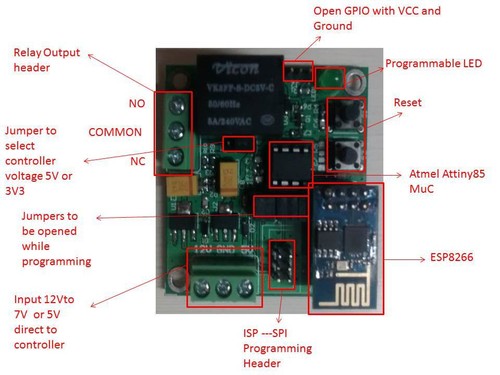 The kit includes
1X Wifi Arduino85 Board
1X ESP8266 Module (Which will be plugged on the board)
Free Basic Source code for the attiny 85
Free Basic android app
Free source code of the android app
Safety Warnings
If you are considering buying this item and want to use it with AC mains , you probably already know all this but in the interest of your safety, we feel compelled to state all this clearly. So take a few minutes to read it carefully before buying.
AC mains are very dangerous -- Even a 50 V AC supply is more than enough to kill you. Please Switch off the mains before making or changing connections, be very very careful.If your are not sure of anything related to the Ac supply lines please call an electrician ask him to help you our with it . Do not attempt to interface to mains unless you have adequate training and access to appropriate safety equipment. Never work on high voltages when you are alone by yourself. Always ensure that you have a friend/partner who can see and hear you and who knows how to quickly turn off power in case of an accident. Use a 1A Fuse in series with the input to the board as a safety measure. Basic Wiring diagram is available on our instructables page and github .Please go through it
Fire Hazard: Making wrong connections, drawing more than rated power, contact with water or other conducting material, and other types of misuse/overuse/malfunction can all cause overheating and risk starting a fire. Test your circuit and the environment in which it is deployed thoroughly before leaving it switched on and unsupervised. Always follow all fire safety precautions.
Thank You Armtronix