All the parts you need to build your own Resistance Decade Substitution Box
We are in the process of constructing a small run of Decade resistance boxes, as a project for our summer Intern. In the meantime, we thought it would be a good idea to offer all of the components for people who want to construct their own project.
Why did you make it?
We have recently hired a student Intern for the summer & gave him this project as a means of supplementing his income. After all component costs, Tindie Fees, shipping are covered all proceeds will go to the Intern.
Parts available?
We have a selection of bits & pieces available to allow you build your own decade resistance box (Substitution Box), as follows: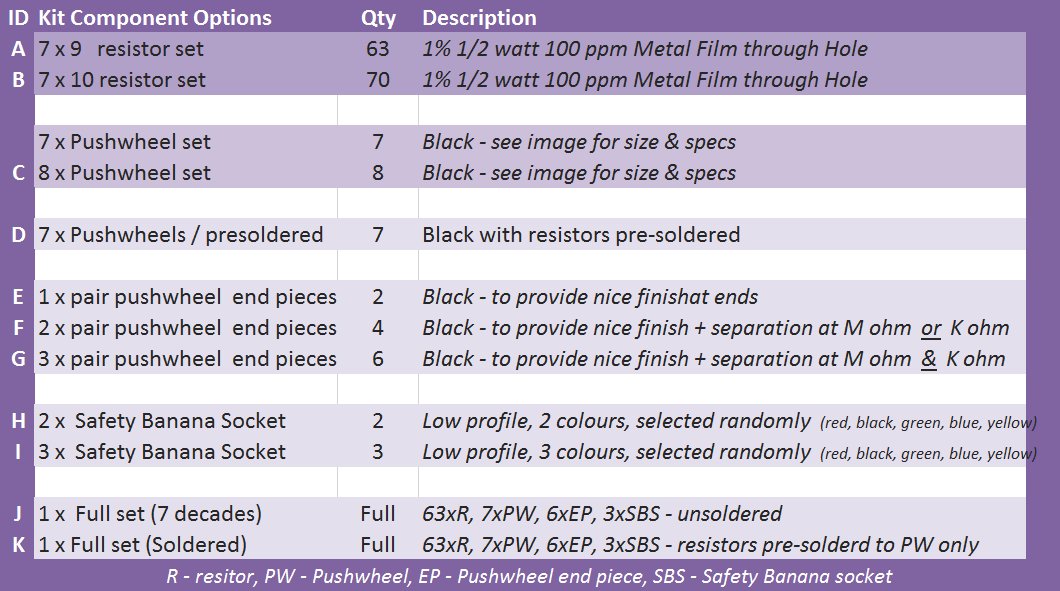 A full set of 1% 1/2 watt 100ppm through hole resistors. (9 or 10 of each value, 63 or 70 resistors in total)
A set of low profile safety banana sockets. (2 or 3 available in different colours, randomly selected)
A set of pushwheels which accept 9 resistors each. (Sets of 7 or 8 pushwheels are available)
A set 7 pushwheels, with the resistors aready soldered. (sets of 7 only, to match the 7 resistor decades above).
A set of end pieces for the pushwheels. 1 pair, 2 pairs or 3 pairs (3 pairs allow for separation @ M ohms & K ohms.
A complete set of components are available (63 resistors, 2x safety banana sockets, 7x pushwheels, 1x pair of end pieces, no enclosure) with an option to have the resistors pre-soldered.
We have not included enclosures as an option, due to the shiping costs. However, we will be shortly launching a fully finished box on Tindie, which includes the enclosure.
You will have to complete wiring of components supplied and provide your own enclosure.
Kit components are limited and can be used to build your own project or repair existing decade boxes.
IMPORTANT Please select the indidual components from the options on the right. You may select more than one option to avail of combined shipping.
Keep an eye out for our completed Kits, which will be available shortly on Tindie and be sure to visit our Tindie store and our blog on http://www.AnalysIR.com/