Hackable OCXO Frequency Standard with High Stability VFC - for counter upgrades, frequency standard or timer projects (Now Back in Stock!)
This is an OCXO 10MHz Frequency Standard module with high stability VFC. There are 4 options available:
Option A - Complete unit, with OCXO calibrated against our Rubidium standard (note 1)
Option A1 - Complete unit, with OCXO & Basic Calibration
Option A2 - Complete unit, with OCXO & No Calibration
Option B - Populated PCB, without OCXO – purchaser supplies & installs own OCXO
Option C - PCB and components - unpopulated, without OCXO
Option D - Bare PCB only - no components, without OCXO
This frequency standard is intended for hobbyists who need a 10 MHz reference to calibrate their existing counters, act as an internal/external reference for their counters or want to create another reference by 'hacking' this unit further. It is not intended for dedicated 'time-nuts', who will have much superior standards available to them.
Once our collection of frequency counters passed 4, we quickly realised the need to have them all calibrated against the same reliable standard. So after acquiring a rubidium standard, we decided to construct a PCB to house the OCXO and the high stability VFC. We also managed to source a batch of used OCXOs and decided to do a small run of units and make them available for sale here on Tindie – assuming others may have similar needs. We are currently upgrading the last of our own frequency counters with this unit, including our oldest which is a 1980's Heathkit IM-2410.
(Now comes with an upgraded high quality BOURNS 25 turn potentiometer for even finer adjustment vs the original 10 turn potentiometer)
Don't delay as our stock of OXCOs is limited and not easy to source.
Hackability
The frequency standard requires 5V & GND and outputs 10MHz. It also features a high stability voltage reference with high accuracy (+/- 2mV) and temperature stability (+/- 2ppm). The Voltage reference is also exposed, via header, in case you need a good voltage reference for your DMM as well. The unit can draw up to 750mA for a few minutes at start up and afterwards less than 100mA. Each unit comes with one BNC populated, supplying 10MHz. We have also provided additional BNC, UFL (both connected to 10MHz), and a selection of SMD footprints (SOIC, SOT, 0805) on the rear side of the board to allow further hacking (frequency dividers, buffers, additional 10MHz outputs, 50 Ohm terminations etc.).
For example, to use a 10 MHz reference with the old Heathkit above, we had to drop the 10 MHz to 10Hz using standard divide by n logic ICs. Fortunately, most of the younger counter models have the ability to accept 10 MHz standards via rear BNC terminals or internal 'option' connectors. Let us know if you come up with an unusual use of your own – some of our users are working on highly accurate clocks, audio systems and lap timers for sports events & races.
An example from one of our users
Matthew sent us some photos of the enclosure he built to provide an external reference for his old HP Frequency counter (HP 5316B).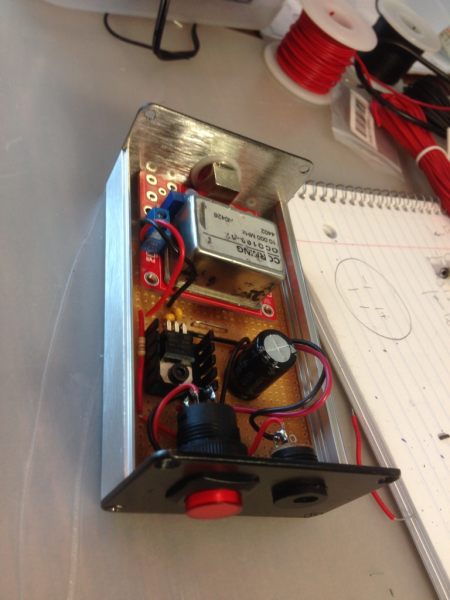 An Example of a very nice custom built enclosure above
Below the Frequency standard is connected to the HP Counter. In the photo the counter is showing an error of 5 counts and normally the reference would be connected to the (external reference) port on the rear of the counter to replace the less accurate internal oscillator - thus turning this very old HP counter into a very accurate one.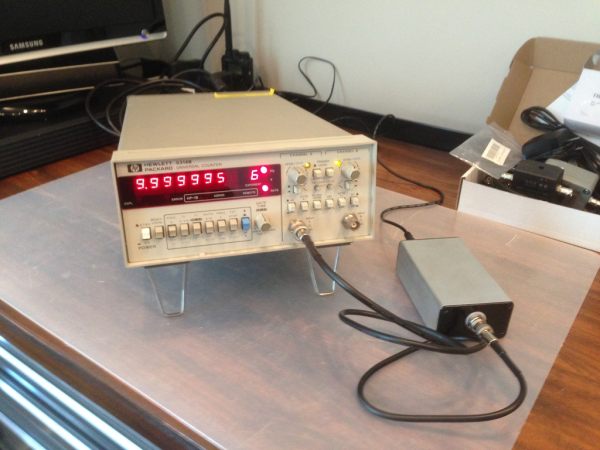 Very Old HP 5316B counter with Frequency Standard
A big thanks to Matthew for providing these photos. It is also worth mentioning that if you don't need an external unit - it can usually be mounted internally to avail of the internal 5V supply thus avoiding the need to create an enclosure etc.
OCXOs
The 'used' Oven Controlled Crystal Oscillators we install are selected from the following range:

Any of the above or any 5V OCXO with similar foot-print & pinout is compatible with the PCB, if you are supplying your own. (If in doubt, feel free to contact us). We install OCXOs models randomly in our modules & you will receive one from the range above, if ordering a complete unit. The OCXO is only supplied with Options A, A1 & A2. Output is HCMOS (5V square wave).
Calibration
Before shipping we will calibrate the unit against our rubidium standard using both our 10 1/2 digit counter and our oscilloscope over a 4 hour period (Option A). It is usually possible to get 8 or 9 digit accuracy using the counter, but the scope provides the best method for visually reducing any drift by comparing the Rubidium waveform against the output of the unit over time. Caveat: As the units are shipped via air, we cannot guarantee that vibration will not impact the end result on arrival. To mitigate this we will secure the adjustment pot setting with glue & provide the adjustment voltage level prior to shipment. If you have access to your own standard, you can always make additional adjustments using the on-board potentiometer.
For basic calibration (Option A1) we calibrate the unit against our 10 1/2 digit counter only for 15-30 minutes. Our counter is itself calibrated with our rubidium standard.
For 'No calibration' (Option A2) we calibrate the unit against our 10 1/2 digit counter only for 10 minutes to allow the OCXO to warm up. This should be sufficient for 6 or 7 digits of accuracy, which may be suiteable for some use cases.
We use the following trimming tool when making fine adjustments - also available here on our Tindie shop.
OPTION A – Complete Unit
This option includes a complete 10 MHz frequency standard calibrated over a 4 hour period using our rubidium standard, 10 digit Frequency counter and Oscilloscope. The 10 MHz output is via 1 BNC connector, soldered into the centre footprint, by default. The OCXO will be one selected at random from the list of models above. Power supply is external via the on-board screw terminal (5v 750mA). There is an on-board LED to indicate when power is being applied to the unit. Other outputs include:
VREF – a stable voltage reference supplied by MAX6194A or MAX6198A, which features a +/- 2mV initial accuracy and a typical temperature coefficient of 2 ppm/°C (max 5 ppm). In this application, the temperature stability is key, but having an accurate voltage reference is a nice bonus. (Note: reuse of the VREF signal should be limited to DMM type usage & not used to drive any circuitry.)
VFC – this is used within the circuit to trim the frequency of the OCXO and is also exposed on a header for convenience. VFC (Voltage Frequency Control or Frequency Adjust/Trim) is generated via the adjustment pot from VREF.
10MHz – we have included additional BNC & UFL footprints to support hacking or expansion of the units capability. You can easily replace the BNC output with another or UFL.
SMD Footprints – on the underside of the board we have included a selection of SMD footprints, including SOIC, UFL, SOT and 0805 to allow additional circuity for buffers, dividers etc.
Mounting Holes – Each PCB comes with 4 x mounting holes.
OPTION A1 – Complete Unit
This option is the same as Option A above, except that the calibration is basic and for a shorter time period. (see description of calibration above)
OPTION A2 – Complete Unit
This option is the same as Option A1 above, except that the calibration is minimal & classed as not calibrated. (see description of calibration above)
OPTION B – Populated PCB without OCXO
This option includes everything in Option A with the exception of the OCXO and calibration. An OCXO is not included with this option. (Soldering Required - TH, to install your own OCXO)
OPTION C – PCB & unsoldered components
This option includes everything in Option B with the components unsoldered. Specifically, the parts list includes: 1 x PCB, 1 x MAX6194A (or MAX6198A), 1 x red LED, 2 x capacitor, 1 x resistor, 1 x pot, 1 x screw terminal, 1 x BNC. The last 3 components are through-hole. You must install all of the components yourself. An OCXO is not included with this option. (Soldering Required - TH & SMD to install components provided and your own OCXO)
OPTION D – Bare PCB - no components
This option includes only the PCB. You must supply and install all of the components yourself. An OCXO is not included with this option. (Soldering Required - TH & SMD to install all of your own components & your own OCXO)
Notes
Non-traceable standard
All OXCOs are used with some signs of wear and some may have minor dents, which does not impact performance.
If you have any special configuration requests, please contact us directly.
As each unit is assembled to order, it may take a few days before your unit is ready to be shipped.
BY default, we calibrate the unit in a horizontal position, with the OCXO on the top side. Orientation of crystals can be important, so if you want your unit calibrated in a particular orientation, let us know. (upside-down, vertical etc)
IMPORTANT: Not intended for use in a safety-critical environment or any situation where injury or loss of life could occur.
Options A, A1 & A2 include an OCXO. Options B, C & D do not include an OCXO. Option D includes a bare PCB only, without components.
Delivery is via standard post worldwide and usually takes from 5->10 working days after shipping. Standard post is untracked and without insurance. As the kit value is relatively low (Options B,C & D), it usually is less than the threshold for any customs or import taxes, which if levied are the responsibility of the buyer.
Happy Counting!